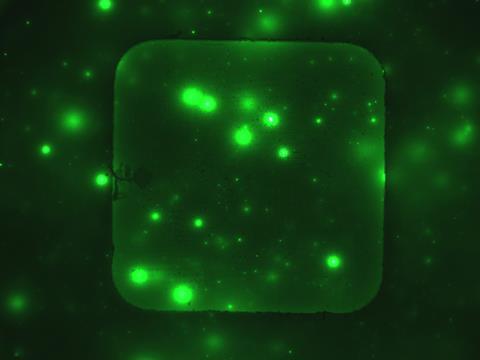 Polysecure GmbH and plastics processor Röchling Industrial are launching SmartMarker, an innovative marker technology for plastic products that offers new opportunities for counterfeit protection, the development of digital material passports, and recycling.
"The exclusive cooperation with Polysecure is an important step for us in the further expansion of our smart products," explains Franz Lübbers, CEO Röchling Industrial. "SmartMarker can be used to completely rethink and optimise many processes. We use the new development to further increase the efficiency of our customers and to create a competitive edge."
Polysecure GmbH has been developing marker materials and detection technologies at its site in Freiburg, Germany, since 2009. As part of the exclusive cooperation, Röchling Industrial can now offer almost all plastic products using marker particles by Polysecure, which are specially tailored to plastics.
Dr. Axel Höfter, General Manager Corporate R&D Röchling Industrial, explains: "We give our plastic products a distinctive identifier made of tiny marker particles. The markers are invisible and do not affect the technical properties of the material. Every component complies with our high standard technical requirements."
SmartMarker gives customer three different applications: authentication, identification and tracer-based sorting.
During authentication, the marker can be used to prove which company manufactured a component. To this end, the mobile BRANDPROOF pocket detector by Polysecure is used to scan any part of the component. "If the component contains the marker adapted to the individual customer, this proves the origin of the product," explains Dr. Höfter.
During identification, this marker can be used to determine whether a specific component is involved. For this purpose, a reference surface on the component is determined. "This reference surface contains a random, and thus individual, irreproducible particle pattern. The pattern gives the component an unmistakable particle fingerprint," explains Jochen Moesslein, Managing Director of Polysecure GmbH.
Tracer-based sorting (TBS) is a sorting technology developed by Polysecure that detects markers in plastics. This opens up entirely new options in the development of recycling cycles involving clients. Tracer-based sorting can be used to sort plastic waste for recycling efficiently and reliably. This creates transparency and dedicated take-back cycles can be established with customers," explains Dr. Höfter.
Better protection against counterfeits or complaints authentication and identification can be used to optimise counterfeit protection and the prevention of unjustified complaints, for instance. "Customers can use marker technology to mark their original parts and thus distinguish them later from unmarked ones. In this way they can protect against counterfeits and unjustified complaints," says Dr Höfter.
SmartMarker can also be used to create digital product passports. "The particle fingerprint can be digitised and stored in databases. Our customers can save further product and quality-relevant information for their fingerprint – such as material properties, customer information and batch numbers. This is how SmartMarker® is used to create a digital product passport," explains Dr Höfter.
This article was created in collaboration with AIPIA (the Active and Intelligent Packaging Industry Association). Packaging Europe and AIPIA are joining forces to bring news and commentary about the active and intelligent packaging landscape to a larger audience. To learn more about this partnership, click here.