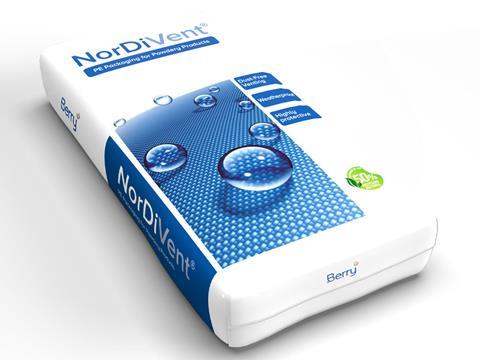 Berry Global has updated its patented NorDiVent form-fill-seal (FFS) film for powdered products to incorporate up to 50% recycled plastic content and meet consumer and customer demand for increased recycled content.
The film is said to be completely waterproof and release air in a dust-free process – a feature designed to protect products against moisture damage and facilitate outdoor storage. It also claims to offer tear resistance to avoid spillages and product waste throughout the supply chain.
A range of optional features, such as anti-static, seek to open up multiple applications for the film. It is also printable in up to eight colours, according to Berry, to allow companies to apply their own branding for optimal shelf presence.
By increasing the recycled content incorporated into the film, Berry hopes to meet its own 2025 sustainability strategy and the expectations of both consumers and customers.
The company also claims that its Sustane Premium Recycled Polymers range, introduced at levels of up to 50%, are produced from both pre-consumer and post-consumer recycled plastic. Blending it with NorDiVent is expected to enable customisation that meets the specific requirements of individual customers.
"NorDiVent provides a reliable, long-term dust-free and moisture-free solution for the filling and packing of all types of powdered products, such as chemicals and construction materials," said Frank Heseding, sales director at Berry Global.
"Our ability to include recycled content into NorDiVent is a demonstration of both our technical skills and our determination to deliver solutions that meet our customers' needs in terms of quality and reliability as well as sustainability. This is important as it is essential that sustainability goals are advanced, but not at the expense of a sack's overall purpose, especially since the performance of a sack throughout the supply chain can have a marked effect on its environmental impact.
"This can play a major role in avoiding product loss and wastage. This has been highlighted in recent research undertaken by the IFEU-Institut für Energie- und Umweltforschung Heidelberg (ifeu)."
Apparently, the ifeu project involved a comparative life cycle assessment of alternative packaging systems for building and industrial raw materials – mainly paper and form-fill-seal polyethylene sacks.
Heseding continued: "The research found that product losses along the value chain have a significant influence on the environment. When the FFS PE sacks save 0.8% of cement in the value chain compared to the paper sack, the climate change results are in favour of PE FFS sacks.
"For titanium dioxide, this breakeven is even lower at 0.2%. The ability of NorDiVent to minimise these losses coupled with the incorporation of Sustane can deliver a strong overall environmental benefit for all stakeholders."
Earlier this year, Antalis released a new range of blown hand stretch film containing 30% post-consumer recycled content – aspiring to help customers lower their carbon footprint.
Additionally, Parkside's mono-polymer laminated film – intended to serve as an alternative to non-recyclable aluminium foil and PET structures – was designed for compatibility with existing recycling streams.
If you liked this article, you might also enjoy:
The Lidl approach to packaging sustainability
How did Brazil achieve its 100% aluminium can recycling rate – and can it be replicated in the EU?
Experts have their say on the EU's Packaging and Packaging Waste Directive revisions
A deep dive into the most important packaging sustainability trends and solution