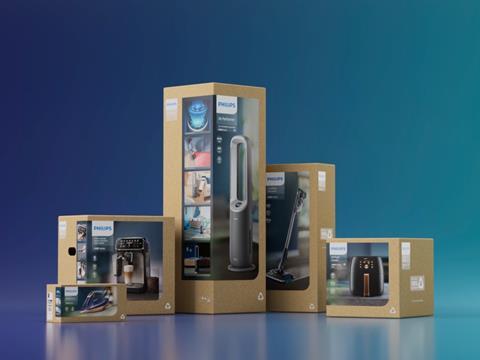 Versuni is repackaging its top-performing Philips home appliances in 100% recycled and 100% recyclable paper boxes and intends to replace all single-use plastics inside them within four years.
According to Versuni, the boxes do not require additional protection to withstand transportation, and the customers can apply the shipping label directly onto the packaging. Their dimensions have been reduced wherever possible to right-size the packaging for the product and optimize space.
The area in which the boxes are printed for marketing purposes has also been reduced, the company explains, and is now thought to require 65% less ink. At end-of-life, the pack can apparently be recycled via the paper waste stream.
Sustainable alternatives are being considered for the single-use plastic inside the pack, which are set to be fully replaced across the global Philips portfolio within four years. This falls in line with Versuni's goal to design products and packaging for 'longevity, repairability, and reusability; turning waste into a resource.'
Connected devices and digitalization are also expected to enhance consumers' experience. Instead of multi-language user manuals coming with the product, consumers are encouraged to scan an on-pack QR code to access 'how to get started' videos, FAQs, and downloadable user manuals in multiple languages. However, safety instructions, warranty information, and simplified start-up guides will still be available inside the box.
Initially, the packaging will be applied to the Philips Airfryer, Espresso Machine with LatteGo, Steam Iron 3000 series, Air Purifier, and Cordless Vacuum 8000 series, amongst other popular products. It is set to roll out across other Philips products in the coming years.
Versuni's chief executive officer, Henk S. de Jong, commented: "Consumers are becoming more environmentally conscious, which impacts what they expect from brands and how they shop. Our purpose at Versuni is turning houses into homes.
"This ambition comes with a responsibility to set new standards and adopt more sustainable practices across our value chain. Introducing sustainable packaging across our Philips portfolio is an important step in our commitments to reduce our impact on the planet, our shared home."
"Looking at the entire lifecycle of a product is a key factor in our design process at Versuni," said Calum Armstrong, head of Design at Versuni. "The desire to become more sustainable in our approach really challenges us to find innovative and creative solutions, from how we package and print, to adopting alternative digital solutions."
Wouter van Tol, head of Sustainability at packaging partner DS Smith, added: "We have partnered with Versuni at all levels of the design and production process to optimize supply chain processes and replace plastic where possible. Our pioneering Circular Design Metrics tool, created in collaboration with the Ellen McArthur Foundation, was an essential step in this.
"It is encouraging to see a company such as Versuni proactively work with us towards a more circular economy."
In a similar development, Luoro's Paperdent alcohol-free mouthwash is now being sold in Elopak's D-PAK paperboard carton; this is thought to utilize over 80% less plastic than conventional mouthwash packaging.
Mondi's recyclable FunctionalPaper is also being used to replace standard plastics in a paper-based pack for Veetee's dry rice.
Meanwhile, PlayStation has implemented loops, a single layer of slots, and other design adjustments into the packaging for its customizable PS5 controller kit – a redesign aiming to enable single-handed opening and benefit consumers with disabilities.
If you liked this article, you might also enjoy:
The L'Oréal approach to packaging sustainability
What steps is Apple taking to make its packaging more sustainable?
How did Brazil achieve its 100% aluminium can recycling rate – and can it be replicated in the EU?
Experts have their say on the EU's Packaging and Packaging Waste Directive revisions