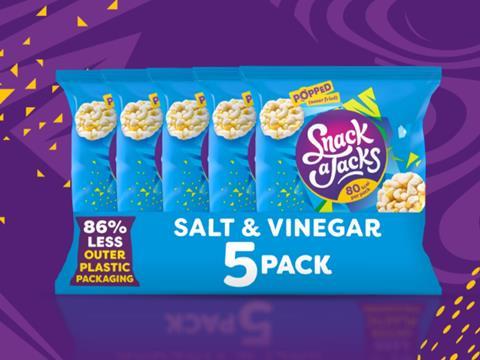 PepsiCo's Walkers brand is trialling 'bagless' multipack packaging for its Snack A Jacks range, with a recyclable, tape-like strip expected to reduce plastic use by 86% compared to the previous outer packaging design.
Alongside the five individual packets it holds, the outer tape has received OPRL certification for recyclability and can be dropped off at flexible packaging collection points at various UK supermarkets. The redesign currently applies exclusively to Walkers' Salt & Vinegar, Sour Cream & Chive, and BBQ flavours sold at Tesco stores.
To carry out the trial, the company invested over £2 million into new equipment to expand reduced plastic packaging capabilities at its Skelmersdale site. It forms part of the PepsiCo Positive health and sustainability transformation plan, which sets such goals as reaching net zero emissions by 2040 and offering a 50% reduction in virgin plastic per serving.
"Our new bagless multipack design is an innovative example of the solutions we're exploring to reduce virgin fossil plastic use across our portfolio," said Gareth Callan, packaging sustainability lead at PepsiCo UK & Ireland. "We're looking forward to assessing this new format as part of our commitment to creating a world where packaging never becomes waste."
Two additional collaborations have taken place between Walkers and Tesco this year. Back in January, Smurfit Kappa helped replace the plastic outer packaging with a cardboard design in an effort to eliminate an annual 250 tonnes of plastic from its supply chain.
Later, Walkers' Sea Salt and Cheese and Onion flavours were repackaged in paper-based packaging – a move intended to bolster recycling rates.
On a wider scale, PepsiCo plans to utilise 100% recycled or renewable plastic in all its crisp packets – including its Walkers, Doritos, and Lay's brands – by 2030.
If you liked this article, you might also enjoy:
McDonald's Director of Sustainability in Europe on the company's approach to packaging sustainability
McKinsey on whether or not on-pack sustainability claims affect consumer spending
Perspectives from industry-leading experts on the EU's Packaging and Packaging Waste Directive revisions
A deep dive into the most important packaging sustainability trends and solutions