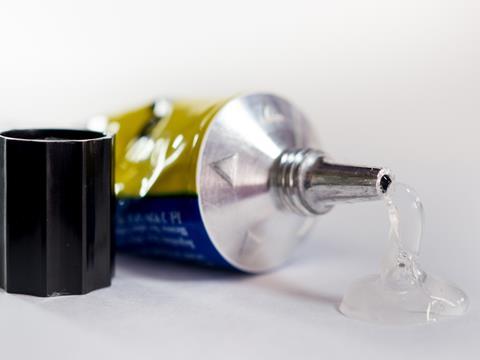 A new market report from Ceresana has suggested that paper and packaging generated one-third of revenues for bio-based adhesives in 2022 and predicted a 3% growth for such products in Europe over the next ten years.
Over 13 million tonnes of 'organic' adhesives are currently produced across the globe each year, the report says, and the global revenue for adhesives made wholly or partially from renewable raw materials is expected to reach $3.8 billion by 2032. Applications such as starch adhesives for bottle labels are thought to offer stronger bonding and a lower ecological footprint, as well as facilitate an industrial shift away from crude oil and natural gas.
Previously unused waste and inexpensive by-products – for example, platform chemicals created during the manufacture of biofuels from biomass – can apparently be used to create bio-based adhesives. Plant and animal base materials modified with additives or copolymers are also expected to compete with industrial adhesive applications, and the report encourages manufacturers to ensure that their adhesives made from biogenic raw materials are non-toxic, solvent-free, low-emission, and biodegradable at end-of-life.
It notes that paper and packaging are amongst the largest individual markets for bio-based adhesives, with the industries accounting for over one-third of revenues generated globally last year. Within the next decade, demand for bio-based adhesives is anticipated to grow by over 4% in Asia, Africa, and the Middle East and just over 3% in Europe and North America.
As such, the study provides a comprehensive presentation and analysis of the international bio-based adhesives market, including forecasts of the development and revenues for Western and Eastern Europe, North and South America, Asia-Pacific, the Middle East, and Africa up to 2032.
It also considers the sixteen countries with the largest sales of bio-based adhesives, which consist of Germany, France, the UK, Italy, the Netherlands, Spain, Poland, Russia, Turkey, Canada, Mexico, the USA, China, India, Japan, and South Korea. The report predicts each nation's demand and revenues, the latter of which are broken down for the individual applications of paper/packaging, construction, wood processing, and more.
Additionally, company profiles are provided for thirty-six bio-based adhesive manufacturers, including Beardow Adams, Bostik, Kiilto, Henkel, Ingredion, Intercol BV, Jowat SE, and Toyo Ink SC Holdings Co., Ltd. These are arranged by contact details, revenues, profit, product range, production sites, and brief profiles.
As part of our Wider View series, we spoke to monta about how the adhesive tapes sector can bring efficiency, product security, and optimised sustainability to its supply chain and the packaging industry at large.
In related news, tesa has released a certified-recyclable 60408 packaging tape constituting a paper-based backing, natural rubber adhesive, and bio-based resin with a total bio-based carbon content of 92%.
Another report from Plastics Recyclers Europe claims that the recycling capacity of flexible polyolefins has grown by 8% between 2018 and 2020 and reached a total of 2.7 million tonnes.
If you liked this article, you might also enjoy:
The Lidl approach to packaging sustainability
How did Brazil achieve its 100% aluminium can recycling rate – and can it be replicated in the EU?
Experts have their say on the EU's Packaging and Packaging Waste Directive revisions
A deep dive into the most important packaging sustainability trends and solutions