In the latest of our Wider View series, we turn our attention to the subject of adhesive tapes. Longstanding industry expert monta discusses how the sector can reduce its environmental impact and increase efficiency and product security along the supply chain.
The importance of adhesive tapes as a key driver of green innovation across the packaging industry should not be overlooked. Packaging tapes are a small yet vital component of the whole packaging concept. The right choice of tapes can save a lot of resources, material and time and also enable packages to be manufactured from more recyclable materials – and this is just the start. They can also increase the pack's ability to withstand tough conditions during transit, reducing product waste and therefore enhancing resource efficiency. And no damaged goods, of course, also equates to greater customer satisfaction.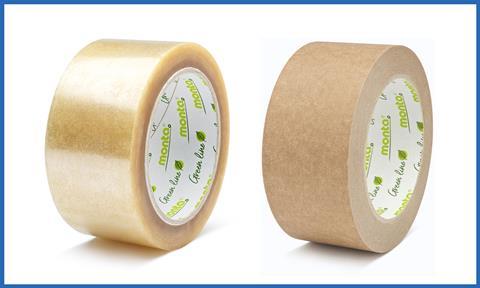 monta Klebebandwerk GmbH, the subject of this article, is well aware of the many possibilities for this sector: monta tapes are used for box and bag sealing, carry handles, strapping, surface protection and splicing. Its product range – which we will discuss in more detail – includes the carbon-neutral Greenline tapes, namely paper-based tapes, biodegradable tapes and tapes that eliminate the need for virgin, fossil based raw material, to name just a few.
monta focuses on natural rubber based adhesives which it develops and manufactures in-house, as opposed to acrylics or hotmelt, which are the other alternatives for this segment. Sylvia Di Felice, Head of Product Management & Marketing, explains why.
"Natural rubber adhesive has the benefit of naturally having a relatively high biobased content of around 50% (whereas acrylic and hotmelt typically are of 100% petrochemical origin). It is suitable for many demanding applications, such as below zero temperatures or high humidity, and thanks to its unique flowing properties is great for even adhering to recycled cartons and other difficult surfaces. Another plus is that with natural rubber, one layer of tape is (almost) always sufficient to achieve the desired bond. This means minimal material input is required."
Why are packaging adhesive tapes so important?
According to monta, the global market for packaging tapes is estimated at 30 billion square metres per annum. The majority of this comprises tapes with a plastic-based backing, with paper backing taking up a smaller – albeit growing – part of the market. The biggest application is carton sealing, in which the tape is applied to close the box. In most cases, says the company, at the end of life, the adhesive tape enters the cardboard recycling stream, where it's usually separated from the carton and incinerated for energy recovery or heating.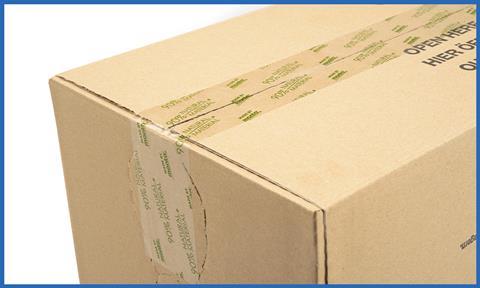 Sustainable innovation in the adhesives sector is today focused on several different areas. For example, on the raw materials side the tapes themselves can be manufactured using ever-more environmentally responsible chemical formulations, while substrates can also be made from more eco-efficient, recyclable or circular materials.
A different, possible future end-of-life solution might be pyrolysis: instead of incinerating it, the tape is converted into liquid oil or gas as a basis for new raw materials, thus closing the loop.
Material reduction is also a big priority, as Sylvia Di Felice explains:
"As a result of choosing a low-quality tape or one that isn't well suited for the application, we often see that far too much tape is applied to achieve a secure seal. This is neither cost-effective nor sustainable, as unnecessary material and time is wasted. Often the user is not aware of the fact that if using the appropriate tape technology for their specific carton quality, a single layer application and short strip of tape is sufficient.

"Put in other words: the less tape you require for the desired result (e.g. closing a shipping carton), the more economical and sustainable your packaging. In addition, a neatly sealed carton, without excessive packaging material, leaves a positive impression on the customer. And with an individual print on the tape, companies can convey their brand message in an easy and sustainable manner, another value-added adhesive tapes offer."
The big market challenges
But while progress is continuous, the industry also has many ongoing obstacles to overcome. New or revised regulations and initiatives – among them the European Green Deal, the Circular Economy Action Plan, the updated Packaging and Packaging Waste Directive, the Chemicals Strategy for Sustainability, the SUP Directive – all demand greener packaging solutions.
"Sustainability has been an integral pillar of our corporate strategy for many years, enabling monta to anticipate the current trend – which translated into our monta Greenline range to offer products that fulfil sustainable market requirements," says CEO Daniel Lückfeldt. "The challenge in some cases is the price of new raw materials! Everyone wants to have green packaging, but if the price premium compared to the 'conventional, fossil based' tape is perceived as too high, the green intentions often subside. But the price gap is getting smaller, and availability of alternative raw materials is also improving, so we see a positive development."
Another challenge the company mentions when it comes to using sustainable packing tape alternatives is technical performance: "They must perform equally well [as existing products] if not better. The box must stay closed during transportation to ensure the packaged goods reach their destination safely and intact. Before launching eco-friendly alternatives, extensive research & development work and practical testing is mandatory to achieve the required technical specification."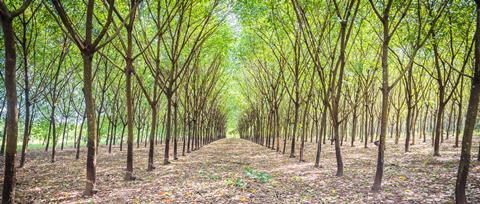 Working towards carbon neutrality and biodegradation
One of the primary goals of the European Green Deal is to make Europe climate-neutral by 2050, and the adhesives industry is supporting this in various ways. For its focus on sustainable responsibility, monta has been awarded the silver medal for sustainability by international ratings platform EcoVadis multiple times – most recently in 2022. The company's Greenline tapes are a key part of its carbon neutral strategy.

"We calculated the product carbon footprint based on the GHG protocol (Greenhouse Gas Protocol Product Life Cycle Accounting and Reporting Standard) for all our Greenline tapes with great results: monta biopack® & monta reTec offer lower carbon footprints than conventional polypropylene tapes. To go one step further, we decided to offset all unavoidable CO2 emissions by investing in certified climate protection projects. Some call this greenwashing; we don't. monta has established an Environmental ManagementSystem to EN ISO 14001 in 1999 and has been energy certified to EN ISO 50001 since 2015. Part of this certification is setting an annual target to lower our energy consumption. We report regularly and also get audited on our progress annually."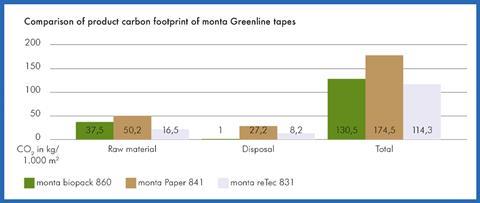 monta biopack®, incidentally, was a finalist in our 2020 Sustainability Awards. Aside from having a high biobased content (around 90% based on dry weight) the product is also compostable under industrial conditions – certified by TÜV Austria with the OK COMPOST Industrial mark. While, as mentioned above, many self-adhesive packaging tapes have a fossil-based plastic backing and are often coated with an acrylic or hotmelt adhesive, monta biopack® uses a biobased PLA film and a natural rubber adhesive.

It should be pointed out here that while biodegradability has come a long way and shows strong promise, there are still some question-marks surrounding it that the packaging industry as a whole is attempting to address. For example, there is an important difference between home compostability and industrial compostability – something that can still be confusing to consumers, which may be in part a labelling issue.

"It is true that the infrastructure for compostable products is not widely established yet and there is room for improvement," says Daniel Lückfeldt. "And there are voices that therefore don't like packaging alternatives made from biobased plastic, like monta biopack®, which is made from PLA film. The perfect 'green' packaging solution has not been invented yet but biobased plastics have huge potential to replace fossil based plastics, with lower carbon footprint and potential to be able to move away from dependence on fossil based materials. Depending on the product and application they can also successfully be recycled, e.g. as a mono-material solution where monta biopack® is used for sealing PLA bags. Furthermore, part of the TÜV OK COMPOST certification also tests on eco-toxicity, which our tape passed, so another benefit there. As to the marketing of compostable packaging materials, clear communication is important, so as not to confuse or even mislead the consumer."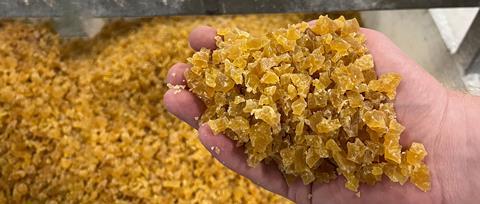 Replacing plastics with paper?
Across the packaging value chain, products that were traditionally plastic-based are increasingly being replaced with fibre-based solutions. But how does this apply to adhesive tapes, where strength and durability are so vital? Are paper-based tapes always sufficient?
"We offer a paper-based tape that is silicone free and perfect for light to medium heavy boxes. It adds a more natural look and is popular where a mono-material tape solution is desired. It also offers stunning print results," says Sylvia Di Felice.
"A drawback is that most paper tapes may not be strong enough for heavier cartons or harsher conditions, and the CO2 footprint of paper tapes compared to other conventional tapes (PP) and other sustainable tape options (biobased) unfortunately is much higher. Also, not all paper tapes stay in the cardboard recycling stream and get incinerated instead of recycled at the end of life."
monta says its "eco-friendly answer for heavier boxes or more demanding applications is using a filmic tape with either a high renewable raw material content (like monta biopack®) or one that significantly reduces the need for virgin fossil-based raw materials, like the above-mentioned monta reTec, a tape manufactured with a film backing made from reprocessed polypropylene, which eliminates the need for virgin fossil based raw material by over 99%. For both products CO2 emissions (cradle to gate plus waste) are lower than with other tapes."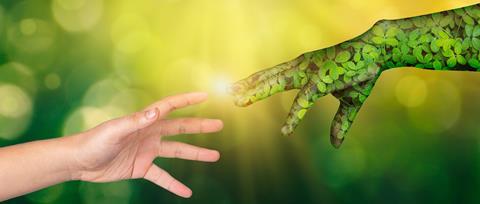 2023 and beyond
Looking ahead at the bigger picture, monta sees strong prospects for 'greener' alternatives across the wider adhesive tapes sector. In order to get the most from this, says Daniel Lückfeldt, "Staying flexible, ideally anticipating the direction the market will take and responding quickly to demand are the main ingredients for continued success."
And monta itself has some exciting products in its R&D pipeline, some of which may be revealed at this year's interpack in May. To find out more, come and talk to the team at Hall 7, stand 70C20 (where they will be serving some local specialties!).


We've heard a lot in the above article about the benefits of working with the right adhesive tape producer.
We were interested to delve a little deeper into this by getting the perspective from monta's customers themselves. We therefore put some questions to Cameron Bell, General Manager of Australia-based Stylus Tapes International:
PE: Why is the correct choice of adhesives tapes essential to help you meet your sustainability goals and ensure product security?
CB: It is our opinion that for the Australian market it has to be truly sustainable. That means certified compostable or recyclable. If recyclable, the process of material collection and recycling has to be viable and accessible for both domestic and commercial use. If compostable, the process of collection has to be available and composting facilities must be accessible. The tape should also perform according to consumer expectations and be suitable to the packaging application. Another aspect is the continuity of supply of the sustainable material.
PE: What are the biggest challenges you face in this regard?
CB: Consumer and industry awareness of the need for sustainability is a big challenge, as is recycling collection accessibility and viability. There is also the question of whether consumers and the industry will accept the need to pay a premium for sustainability, as prices for sustainable raw materials are higher.
We also spoke with Thilo Simon, Lead Buyer (paper, wood, plastics) at the Industrial and Packaging Division at Germany-based TAKKT Group, about the impact of the e-commerce sector:
PE: Has the recent e-commerce boom increased the importance of efficient and sustainable bonding solutions?
ST: We have been experiencing an increased demand for sustainable products for some time now. The recent e-commerce boom has reinforced once again the importance of efficient and sustainable bonding solutions because packaging is a critical component of the supply chain, and online shopping has significantly increased the volume of packages being shipped. Efficient and sustainable bonding solutions, such as the monta paper packaging tape or monta biopack®, can help reduce waste, improve the packaging process, and create a more sustainable supply chain.



This premium feature brings a completely new way for you to interact with our audience through a combination of collaborative editorial and premium promotion. An article written together between you and Packaging Europe's content team, The Wider View will have a dedicated widget across all web pages & eNewsletter, and will link to a stunning, long-format web page put together by our design team featuring your graphics and branding. Carrying no other advertising, and pushing the limits of ordinary web communications, this is the ultimate digital content package.