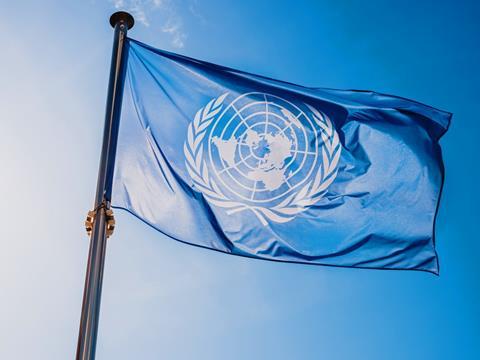 Following the second negotiation meeting of the Intergovernmental Negotiating Committee (INC-2) in Paris, UNEP and WWF have expressed their optimism surrounding the establishment of a UN Global Treaty to End Plastic Pollution – yet the latter has criticised what it describes as 'delaying tactics' and the exclusion of scientist and CSO input in the negotiation process.
Over 17,000 participants – 700 Member State delegates from 169 Member States and more than 900 observers from NGOs – attended the session at the UNESCO headquarters in Paris. Member States elected Georgia, Estonia, Sweden, and the US to the Bureau on the first day of the session; discussions were also held surrounding voting rights, and an agreement was made on an interpretive paragraph for the Draft Rules of Procedure applying to the work of the INC on a provisional basis.
WWF observed that international governments generally agreed that an 'ambitious and impactful' global treaty is necessary to create a set of consistent, effective, and binding rules surrounding the life cycle of plastics. It says that 135 states called for the establishment of compulsory global standards rather than a voluntary agreement, which could allow individual nations to customise their own regulations and potentially hinder united progress.
Amongst the other proposed solutions was a global phase-out or ban of 'problematic polymers, chemicals, and high-risk plastic products', which was apparently prioritised by 94 Member States. A reduction in production and consumption, encouragement for reuse and recycling, and the responsible management of plastic waste were also raised as important steps.
Japan, Gabon, and Mauritius were announced as new members of the High Ambition Coalition to End Plastic Pollution, and WWF noted the coalition's statement from more than 55 ministers.
"I am encouraged by progress at INC-2 and the mandate to prepare a zero draft of the international legally binding instrument on plastic pollution," said Inger Andersen, UNEP's executive director. "I look forward to INC-3 in Nairobi, and urge Member States to maintain this momentum. The world is calling for an agreement that is broad, innovative, inclusive and transparent, one that leans on science and learns from stakeholders, and one that ensures support for developing nations.
"Plastic has been the default option in design for too long. It is time to redesign products to use less plastic, particularly unnecessary and problematic plastics, to redesign product packaging and shipping to use less plastic, to redesign systems and products for reuse and recyclability and to redesign the broader system for justice. The INC has the power to deliver this transformation, bringing major opportunities for everyone."
WWF special envoy Marco Lambertini also stated: "After a week of negotiations, the world is one step closer to the unmissable opportunity of a global treaty to end the plastic pollution crisis. The first draft of the treaty that will now be developed must reflect the ambition shown by the vast majority of countries here in Paris, and include the global bans and control measures that are needed to reduce and eliminate production and consumption of unnecessary and harmful plastic products and materials and turn the tide on plastic pollution.
"Ahead of the next round of negotiations, governments must continue in the spirit and determination shown here this week and work together to realize the ambitious world-changing treaty needed to halt plastic pollution."
On the other hand, WWF claims that delaying tactics slowed the negotiation process. It points to a group of states challenging procedural rules that had previously been agreed upon, with the stalemate lasting for several days. The organisation now fears that attempts to remove the option of a vote, which could lead to a single country vetoing the text and preventing the adoption of a treaty, could arise again during future negotiations.
"We must not see a repeat of the delaying tactics witnessed in Paris in the next stage of negotiations," warned Zaynab Sadan, regional plastic policy coordinator for Africa at WWF. "Parties should not allow negotiations to be held hostage by a few when the majority wants to move ahead. We do not have time for delays."
WWF has also raised its concerns about the restrictions on scientists and civil society groups at the INC-2 negotiations, since many delegates signing up to attend the summit unable to observe or participate in the negotiations themselves.
"The impacts from the plastic pollution crisis hit close to home and in the farthest-reaching places on Earth," concluded Erin Simon, WWF-US vice president for Plastic Waste and Business. "That's why treaty negotiators have an obligation to deliver solutions that benefit the entire global community.
"In the next round of negotiations, states must come to the table with a coordinated approach if we're going to secure an ambitious and effective treaty. The world is watching, and the choice is clear. It's time to capitalise on this momentum and shape a future free of plastic pollution."
At the close of the negotiations, the International Negotiating Committee requested that the Secretariat invite submissions from observers and Members by 15th August and 15th September, respectively, for talking points to raise at INC-3. This includes the principles and scope of the instrument and 'any potential areas for intersessional work compiled by the cofacilitators of the two contact groups'.
"My appeal to you at the beginning of this session was that you make Paris count," said Jyoti Mathur-Filipp, Executive Secretary of the INC Secretariat. "You have done so, by providing us with a mandate for a zero draft and intersessional work.
"The momentum you have built up here in Paris will guide our work in the intersessional period and at our future sessions. I look forward to continuing our important work together and to welcoming you all to Nairobi for our third session in November."
Unilever preceded INC-2 with its own view of a Global Plastics Treaty that harmonises global regulation, mandates the prevention of plastic leakage, and extends the implementation of EPR schemes.
Another recent report saw UNEP list the concrete practices, market shifts, and legislation it believes to be necessary for transitioning into a circular economy and reducing global plastic pollution by 80% by 2024. This includes international governments supporting investments into reusable packaging alternatives and promoting recycling as a profitable business venture.
However, this document was critiqued by Robert Lilienfeld, founder and executive director of sustainable packaging think tank SPRING. He questioned its exclusive focus on plastics, the vagueness of the language used, and the lack of an economic incentive to convince industry players to take part in a circular transition.
If you liked this article, you might also enjoy:
McDonald's Director of Sustainability in Europe on the company's approach to packaging sustainability
McKinsey on whether or not on-pack sustainability claims affect consumer spending
Perspectives from industry-leading experts on the EU's Packaging and Packaging Waste Directive revisions
A deep dive into the most important packaging sustainability trends and solutions