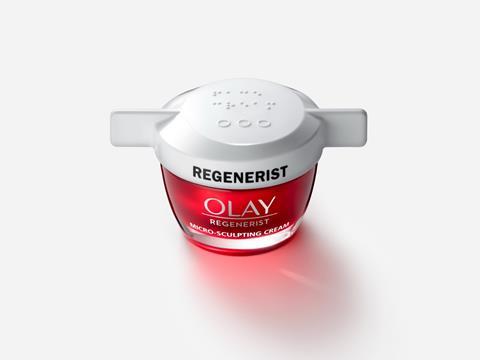 Olay North America will introduce the Easy Open Lid, a limited-edition prototype that it says it developed with and for disabled people to improve the accessibility of its moisturiser products, and which it will share with the rest of the industry.
The Easy Open lid will be incorporated into the designs of OLAY's Regenerist Micro-Sculpting Cream, Vitamin C + Peptide 24 Face Moisturizer, Retinol 24 Face Moisturizer, and Collagen Peptide 24 Face Moisturizer.
According to the company, the new lid features a winged cap that allows for easier opening, extra grip on the raised lid, a high contrast product label, and braille text that reads "face cream" to allow consumers to differentiate between products.
To develop the lid, Olay met with disabled consumers with dexterity conditions, limb differences, and chronic joint pain, and who are blind or partially signed. The team reportedly also met with external experts and incorporated a range of personal experiences into the new product design.
Madison Lawson, a model who has muscular dystrophy and worked with Olay on the lid, comments: "Accessibility makes things better for everyone.
"Everyone's been there where you get product on your hands or you're trying to open something and you can't, so I think it's cool that this is designed with us specifically in mind but it also makes everyone's life better."
Chris Heiert, senior vice president of Olay, adds: "As a global brand, it's our responsibility to ensure that all consumers have access to products that serve their needs and fit seamlessly into their daily lives."
In addition, Olay will not patent the lid and says it will share the design with the beauty industry to encourage other brands and companies to incorporate accessibility into product development.
The Easy Open Lid will also be offered to consumers at no additional cost, offered free with the purchase of any of the four OLAY moisturisers with the new design.
Olay is part of P&G, which has pledged to make its packaging more accessible for disabled people by 2025.
Accessibility is a vital part of the consumer experience, impacting whether consumers can use a product safely or at all – for example, blind or partially sighted people with food allergies or intolerances may not be able to access the nutritional information on packaging unless it is written in braille. It also influences whether consumers return to a product, with many saying they will not buy an item again if it is too difficult to open.