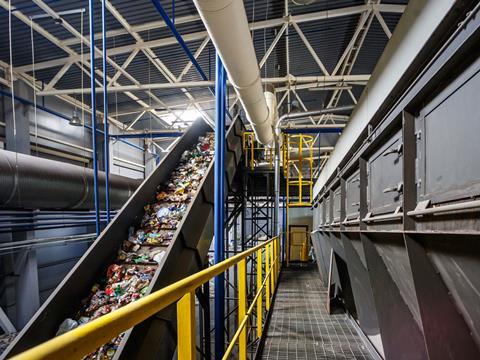 Nextek's innovative NEXTLOOPP project is on a journey to create food-grade packaging from recycled polypropylene. We spoke with the organization to learn more about this initiative, which is a finalist in the Driving the Circular Economy category of our 2021 Sustainability Awards.
Congratulations on being selected by the international judging panel as a Sustainability Awards 2021 finalist! Could you please introduce your successful entry and what's innovative about it?
NEXTLOOPP aims to produce food-grade recycled Polypropylene (FGrPP) that can go back into food packaging, and they have a very compelling reason to do so.
Polypropylene (PP) is one of the most prolific and versatile plastics in the world - it is also missing from our recycling streams. Yet in the UK alone we use over 210,000 tonnes of PP in our food packaging every year. PP is found in pots, tubs and trays - the majority of packaging in the food-to-go category. The absence of food-grade recycled polypropylene (FGrPP) means that all PP food packaging is currently made from virgin plastics.
This problem isn't unique to the UK but a large, global problem. If we can create a circular economy for food-grade PP packaging waste we would be able to reduce the production of virgin plastics from petrochemicals, in turn reducing CO2 emissions and diverting waste from both waste-to-energy/landfill and lower-quality plastics.
In the absence of government or industry body initiatives to tackle the challenge of food-grade PP recycling, NEXTLOOPP believes there was a need to gather stakeholders across the PP supply chain to try and solve this problem.
The problem is challenging because, for consumer safety, the European Food Standards Authority (EFSA) requires that recycled food-grade materials can only be made from (>95%) food packaging and that the recycled plastic must meet the same high standards required for virgin food-grade plastics.
What are the environmental challenges in packaging that your entry addresses, and what impact do you hope it will make?
As mentioned above, NEXTLOOPP proposes to close the loop on food-grade rPP. Doing this will have important benefits for both industry and the environment, namely reducing the production and use of virgin plastics from petrochemicals, reducing CO2 emissions, and reducing food-packaging waste.
To illustrate this in more detail, according to WRAP UK, the annual tonnage of PP is 288kt, of which 70% is food-grade rPP. This equates to approximately 210kt/pa of PP that currently has to be produced from virgin PP - as there is no FGrPP available.
NEXTLOOPP's initial Life Cycle Assessment (LCA) that has been completed by the Natural Resources Institute at the University of Greenwich shows that by switching from virgin PP to rPP we will be saving 105,600 tonnes of GHG each year in the UK alone.
The NEXTLOOPP project also aims to support businesses wanting to use packaging that contains at least 30% recycled plastic, enabling them to avoid the incoming 'virgin' plastics charges and reduce their carbon footprint.
If the UK does nothing more than meet the 30% recycled content target for food-contact PP packaging, 105,600 tonnes of virgin PP will be saved annually.
I'd like to ask you about the broader picture beyond your successful entry. 'Sustainability' in packaging is multi-dimensional – both in terms of objectives and challenges. Could you comment on the most important roadblocks you identify from your position in the value chain, and the kinds of solutions you would like to see addressing them (e.g. areas of technological innovation, collaboration, regulation)?
First, I would like to set the scene; according to the report Breaking the Plastic Wave, even our most updated recycling commitments are inadequate for the scale of the challenge we face if we are to avoid drowning our oceans in plastic and overheating our planet. The report estimates that by 2040, 29 million tonnes of plastic per year will enter the oceans from land—equivalent to 50 kg of plastic per metre of coastline worldwide.
Because plastic remains in the ocean for hundreds of years and may never biodegrade, the cumulative amount of plastic in the ocean could grow by 450 million tonnes in the next 20 years. The figures speak for themselves: the world currently produces 1 million tonnes of plastic per day yet our daily plastic recycling rate is just 150,000 tonnes; mismanaged plastic waste is predicted to grow from 91 million tonnes in 2016 to 239 million tonnes by 2040.
These appalling consequences of the business-as-usual approach make the circular economy an immediate priority for the plastics industry.
As for the roadblocks, one of the key challenges we need to address is our current resistance to simplifying packaging so that it can be readily recycled. We need to make transformational shifts to intentionally (or consciously) design plastic packaging for recycling rather than trying to fit awkward plastic designs into the recycling streams. We need to boost our recycling capacity and a good place to start is with our packaging.
Despite claims to the contrary, few packaging recycling features are deeply embedded in either the process or the product; those that are superficially applied are unlikely to have been clearly thought through. Recycling-friendly formulations are few and far between; currently not all packaging is recyclable, which explains our low daily plastic recycling rate.
The majority of packs on retail shelves are designed with the primary purpose of engaging with the consumer, protecting the contents within, and telling a strong brand story. Most packaging materials have been designed to be processed only once and recycling features that create closed-loop opportunities are woefully low on the list of priorities.
The concept of a 'naked' bottle – clear and with as few 'bells and whistles' as possible is the ideal end-game that brands and consumers need to aim for, and learn to accept, in order to make meaningful progress with recycling volumes.