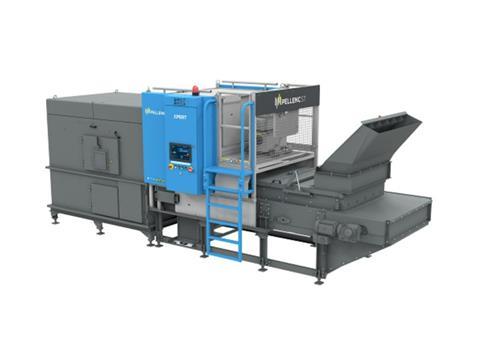 Pellenc ST claims that its new instalment of Xpert technology combines a dual-energy transmission X-ray with machine learning, a form of artificial intelligence said to learn and remember data to improve the efficiency of metal and e-scrap waste sorting processes.
Functioning with a detector and a 100-Watt X-ray generator, the machine can run a conveyor from 2 m/s to 4.5 m/s depending on its application. Its new software can apparently target multiple materials and densities in a single sorting step, enabling high-capacity sorting without sacrificing performance.
This enhanced sorting process is said to recognise the shape, density, and thickness of the materials that pass through it. In doing so, it can improve recovery rates in metal sorting by removing plastics containing flame retardants and other charges, as well as recovering high-added-value materials such as PCBs.
According to Pellenc ST, the Xpert is 'utilised to process Zorba and for sorting different aluminium alloys in order to produce a Twitch product', which can then be sent to a furnace. It can also sort leaded glass, it is claimed.
PellencST's turnkey service solution is available with wear parts and the Smart&Share application, which is said to analyse the operation of individual sorters and provide alerts and reports aimed at improving availability and sorting quality. The machinery is equipped with the Central Nervous System (CNS) software platform, allowing for future upgrades as new technologies and sensors arise.
The new technology is expected to improve safety, reduce the workload of operators, and lower maintenance costs.
Earlier this year, the Perfect Sorting Consortium was formed to develop and test an artificial intelligence decision model to improve the recycling of packaging over the next two years.
CEFLEX also ran a testing programme to test the sorting of multi-layer flexible packaging using NIR technology. It was anticipated that the results would be shared with stakeholders last month.