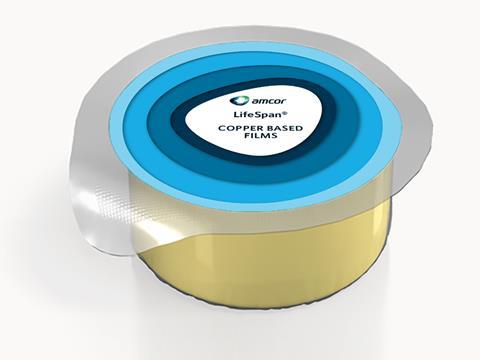 Extending the shelf life of food is a global climate emergency issue to help reduce waste, but it also has the potential to boost business. Developments are going on in every continent and, as the last AIPIA Comment article highlighted, different materials and processes are being developed in almost every region of the world.
In South America, Chile's Copperprotek, in collaboration with Amcor Flexibles, has developed packaging that allows better preservation of fresh and processed foods using technology based on copper components.
As a leading biotechnology company, it has expertise in the use of biomaterials to streamline food production and improve the marketing chain. It claims these technological developments are a scalable and cost-efficient solution to ensure that food reaches markets and consumers in the best possible condition.
The company was created by two entrepreneurs from the mining industry, Javier Lavin and Raul Molina, and bases its technology on the potential of copper for industrial applications, which after an intense research process, managed to develop a copper microparticle, with a high ionic bioavailability, which was patented in the United States in 2018.
It has cooperated with Amcor Flexibles Chile to create a unique and high-quality packaging solution with LifeSpan™ Copper Based Film. This generates a constant and efficient biocidal effect against microorganisms present in food, they claim.
The company says the packaging uses natural biotechnology, applicable to all types of packaging, which can help to reduce claims for spoilage by maintaining a good organoleptic profile for longer. It has created a unique copper microparticle which, when incorporated into the packaging, will naturally eliminate the microorganisms present, extending the useful life of the food, it says.
Raúl Molina, now commercial manager of the company, explained that it has been able to create packaging that makes it possible to extend the shelf life of a variety of foods, whether it is processed, such as hams or sausages, or packaged fresh products such as pork, beef or cheese, by up to 30 days.
"When bacteria start to proliferate in the food, decomposing it or shortening its shelf life, packaging in contact with bacteria eliminates them," said Molina. He explained that, even in the internal movement of goods, this type of technology can withstand the interruption of the cold chain due to failures in refrigeration or areas of higher temperature during transport.
Currently, Copperprotek is already serving customers in Chile and Ecuador. Negotiations with Mexican processors are also underway. However, certification from the USA Food and Drug Administration (FDA), which it expects to receive in the first half of this year, will enable the company to encourage more Mexican food exporters to purchase the packaging. It is also seeking ANVISA approval to commercialize its biocide resin in Brazil.
"Giving a product an extra week or two can allow it to reach markets where it hasn't been possible before. We are reaching out to Mexico because we anticipate receiving FDA approval in two months, which means that the packaging can be used in the United States," added Molina.
Lifespan™ has been awarded a WorldStar in the Food category for 2023.
This article was created in collaboration with AIPIA (the Active and Intelligent Packaging Industry Association). Packaging Europe and AIPIA are joining forces to bring news and commentary about the active and intelligent packaging landscape to a larger audience. To learn more about this partnership, click here.