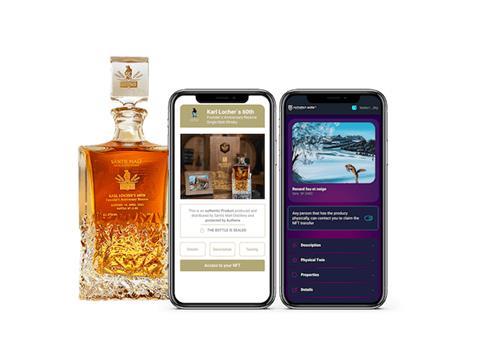 During the recent CES show in Las Vegas, Authena AG, a leading provider of NFT ownership certificates and 'phygital' authentication at the single SKU level introduced M3TA™, which provides authenticity and ownership certificates via NFTs associated with their physical twin.
The company, which is based in Zug, Switzerland, started by protecting the authenticity of physical goods in the pharmaceutical, food, and luxury markets with its Authena Shield™ and Authena L1VE™ technology. M3TA™ is the next evolution of the company's commitment to provide the authenticity connection for manufacturers and producers to secure the bridge between their physical products and digital twins, it says.
It believes that QR codes, holograms, and barcodes can be easily copied, meaning product fakes and counterfeiting continue to cost industries hundreds of billions in lost revenue and put human lives at risk by fostering exploitative forced labour that diminishes global ESG goals. In the past all objects were physical, but the explosion of cryptocurrency, avatars, and digital art has brought with it an explosion of digital objects.
"In the future all objects will have a physical soul and a digital identity, creating the new 'phygital' universe," said Matteo Panzavolta, founder and CEO of Authena, talking about the future of NFTs, Web3, digital twins, and the metaverse. "But these phygital objects are vulnerable to attacks, leaving consumers exposed to counterfeit physical products and unknowingly purchasing fake NFTs, rendering them useless. Authena solves this for the consumer with the tap of a smartphone," he says.
Using powerful, sensor-based, IoT blockchain technology, Authena's technology puts the power of product authentication at the single SKU level in the consumer's hands. It allows companies to track every touchpoint in the supply chain, including environmental conditions, geo-tracking, border crossings, rough handling and offers NFT authentication with metaverse portability in multiple, vertical industries, it claims.
Using M3TA™, Authena worked with Adidas and FIBA's Serbian Red Stars team to exploit the full potential of Web3 by providing VIP fans with NFTs for an authentic signed jersey following the EuroLeague game against Real Madrid in January 2023 – a trend that will be 'de rigueur' in the future of sports, it states. The company is also working with leading brands in the pharmaceutical, wines and spirits, fragrance and cosmetics, luxury goods and industrial applications.
According to the company Authena L1VE™ boasts the smallest rechargeable tracker at the single SKU level and monitors in real-time in 185 countries; Authena M3TA™ provides authenticity and ownership certificates via NFTs associated with their physical twin; and Authena Shield™ is an end-to-end authenticity platform integrated with physical-digital seals that provide security and authenticity for physical products.
This article was created in collaboration with AIPIA (the Active and Intelligent Packaging Industry Association). Packaging Europe and AIPIA are joining forces to bring news and commentary about the active and intelligent packaging landscape to a larger audience. To learn more about this partnership, click here.