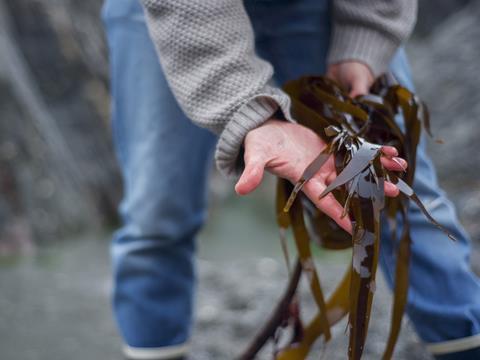 Xampla, Notpla, Loliware, Traceless, MarinaTex, Zerocircle, and PlantSea have formed the Natural Polymers Group and are encouraging policymakers at INC-3 to recognize natural polymer materials as valuable assets in combating plastic pollution.
Uniting industry players from Europe, India, and the US, the coalition intends to promote plants, seaweeds, and other natural materials as a mainstream solution for phasing out unnecessary plastics and overcoming the plastic waste crisis.
With the Intergovernmental Negotiating Committee's third round of negotiations for a UN Plastics Treaty commencing in Nairobi next week, the group is offering up three policy endorsements for a legally binding instrument on plastic pollution.
It calls for a clear definition for plastic and non-plastic substitutes, alongside an expanded criteria for circularity – both of which should acknowledge the end-of-life benefits of natural polymers. This should be backed up by extended producer responsibility systems, taxes, levies, and/or other ambitious policies and incentives to cut out plastics where they are not needed.
In turn, these steps are expected to encourage the production and use of natural polymer solutions from 'abundant' renewable resources – a safer, more sustainable solution, the coalition argues.
Its participants hope that their collaboration will assist a transition into a pollution-free circular economy and they invite other innovators, businesses, researchers, and NGOs to get involved.
"We have come together to demonstrate the enormous potential for naturally sourced materials to transform industries reliant on conventional and single-use plastics," said Pierre Paslier, co-founder of Notpla. "Our group will be the voice of this emerging industry and accelerate the adoption of natural polymers across many sectors and applications.
"The global treaty underway now is a pivotal chance to coordinate ambitious action to address the plastic crisis. We urge policymakers to leverage this opportunity to support natural solutions as the key solution to avoid plastic waste and pollution altogether, rather than relying solely on recycling or reuse of plastic."
Alexandra French, CEO of Xampla, continued: "We are proud to launch the Natural Polymers Group to speak with one voice about the potential of natural materials to eliminate plastic. Our Morro materials are a viable and market ready solution that can do things plastics never could. We urge those who are drafting the Treaty to recognise natural polymers as an essential part of a plastic free future."
Traceless recently secured €36.6 million in funding to scale up its natural biomaterial technology. Its alternative material to bioplastics, made from agricultural plant residues, has been nominated as a finalist under the Pre-Commercialized Renewables category at this year's Sustainability Awards.
Notpla's seaweed-based packaging has been recognized as the 'first and only' plastic-free material by the Dutch Government in line with the EU Single-Use Plastics Directive; and the company joins Zerocircle and Sway as the winners of the TOM FORD Plastic Innovation Prize – which recently entitled them to the benefits of the TOM FORD Plastic Innovation Accelerator programme, including access to multifaceted networks, leading insights, and brand collaborators to replace traditional thin-film plastic on a larger scale.
Meanwhile, Xampla has responded to a consumer survey describing plastic as a 'material of the past' with the unveiling of its new consumer brand, Morro – a move set to provide bio-based alternatives to plastic packaging.
If you liked this article, you might also enjoy:
The L'Oréal approach to packaging sustainability
What steps is Apple taking to make its packaging more sustainable?
How did Brazil achieve its 100% aluminium can recycling rate – and can it be replicated in the EU?
Experts have their say on the EU's Packaging and Packaging Waste Directive revisions
Also, if you're interested in packaging sustainability, you will want to attend our Sustainable Packaging Summit in Amsterdam on 14-15 November. The Summit brings together leaders and pioneers from across the industry to align strategically, learn, network, and create a critical mass to accelerate change. You can learn more by clicking here, and you can buy a ticket to attend here.