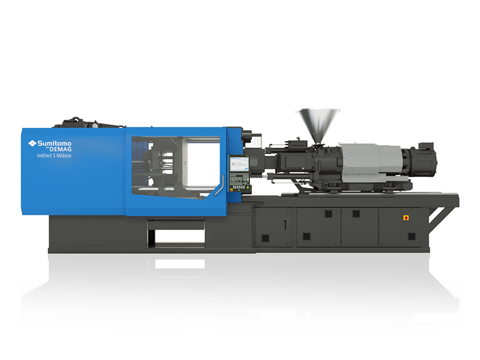 Sumitomo (SHI) Demag is expanding its IntElect S all-electric high-performance injection moulding machine range for high-volume packaging, hoping to increase energy efficiency and introduce the market to new product applications, including low part weights and narrow tolerance components.
Building upon the standard IntElect all-electric series by combining it with the high-speed packaging injection moulding machine PAC-E, the expansion includes medium clamping force machines between 220 and 450 tons. Injection speeds can reportedly reach 350 mm/s.
The additional models mean that moulders requiring cycle time speeds of between three and twelve seconds are no longer compromised in terms of productivity, energy efficiency, or processing speed and stability, according to IntElect product manager Peter Gladigau.
He goes on to highlight the machines' high performance drives, shorter clamp spindles, and longer service life – all of which are thought to accelerate the injection speed and achieve an average of one second of cycle time saved in comparison with the standard IntElect model.
Additionally, the IntElect S mid-size range is intended for high performance applications with short cycles and high material throughput, which are generally thought to consume more energy. The series can reportedly lower energy consumption by a figure between 0.25 and 0.32 kilowatt hours per kilogram.
Gladigau continues: "Given the rapid rise in energy prices, counteracting the impact on rising manufacturing costs through higher productivity, processing repeatability and reduced waste is increasingly imperative with regard to competitiveness. For this very reason, market interest in our IntElect S series remains very high."
The IntElect S model is said to optimise tool movement, nozzle position, metering speed, and injection and ejector movements, with the increased capacity of the braking energy recovery system thought to extend the lifespan of its electrical components and capacitators – an outcome apparently verified by machine and part lifestyle durability tests. This improves the safety of the machine's operation, even in fast-cycle applications.
Sumitomo (SHI) Demag claims to benchmark dry cycle times on thin wall packaging products among equivalent electric machinery available on the market. Similarly, a previous collaboration between ENGEL, ALPLA Group, Brink and IPB Printing sought to produce thin-walled containers made of PET and rPET in a one-step injection moulding process.
ENGEL has also unveiled a pay-per-use model within its own injection moulding range, hoping to improve flexibility in production while reducing investment risk.