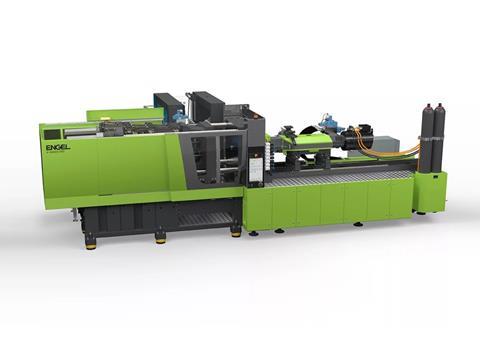 ENGEL, ALPLA Group, Brink and IPB Printing have collaborated to produce thin-walled containers made of PET and rPET in a single injection moulding process step.
According to the companies, an ENGEL e-speed injection moulding machine with a newly-developed and extremely powerful injection unit is being used to produce the thin-walled containers produced from recycled PET in a single step.
The companies say that up until now, it has only been possible to process PET in thick-walled parts such as bottle preforms in injection moulding. The final packaging format was apparently created in a second step of the process, for example, by blow moulding.
The companies add that the transparent, round containers feature a wall thickness of 0.32 and a volume of 125 ml. The containers are reportedly ready-for-filling as soon as they leave the production cell thanks to integrated in-mould labelling (IML).
The dyes used on in-mould labels for the American market can apparently be washed off before recycling, while ENGEL says that for the European market, the in-mould label floats off in the recycling process to allow for the dyes and the label to be separated from the PET.
PET offers the benefit of having a closed-loop recycling system already in place, the companies claim. They add that the innovation could remove the need to downcycle packaging into products other than bottles and provides an opportunity for bottle-to-bottle, bottle-to-cup, or even cup-to-bottle recycling.
ENGEL says that it specifically developed the e-speed 280/50 injection moulding machine with its electrical clamping unit and hydraulic injection unit for the high-performance requirements of thin-wall injection moulding. The new injection unit allegedly achieves injection speeds of up to 1400 mm per second at a maximum injection pressure of up to 2600 bar when processing small shot weights with an extreme wall-thickness to flow path ratio
To process rPET, ENGEL adds that it combines the new injection unit with a plasticising unit from in-house development and production specifically designed for processing recycled material. During the plasticising and injection, the viscosity of the PET is configured for thin-wall injection moulding.
ENGEL will present solutions including a mould that can process different labels at the same time at K 2022 in Dusseldorf, running from the 19th to the 26th of October.
The modified rPET being processed at the K show comes from drinks bottles recycled in the plants of packaging and recycling specialists ALPLA Group, who are headquartered in Hard, Austria. The other collaborators involved with the project will also be at K 2022. This includes Brink (Harskamp, Netherlands) for the mould and IML automation and IPB Printing (Reusel, Netherlands) for the labels.