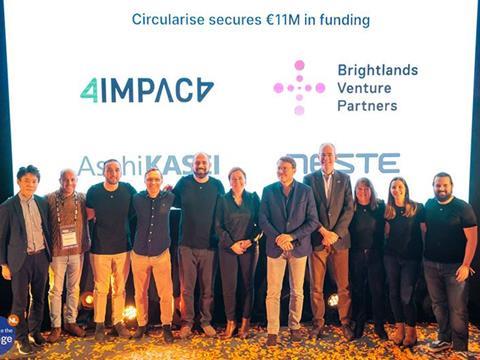 Neste, Brightlands Venture Partners, 4 Impact VC and Asahi Kasei have announced a combined €11 million investment into Netherlands-based startup Circularise – which develops digital solutions that boost traceability and visibility of material flows along value chains.
"There is an urgent need for new scalable, end-to-end digital solutions to trace renewable and recycled material flows, providing increased transparency along the value chains.
"Circularise provides novel solutions for this need, and we are excited to support them in speeding up the critical transition to circular solutions," says Lars Peter Lindfors, Neste's Senior Vice President, Innovation.
With its blockchain-based digital product passports, Circularise aims to enable customers to improve resource use, verify provenance, conduct carbon footprint and impact assessments across supply chains.
This is relevant in complex supply chains such as those of polymers, chemicals, plastics, metals, and critical raw materials. Additionally, the company provides a solution for mass balance bookkeeping, in the hopes of supporting the shift from fossil feedstocks to sustainable alternatives in the plastic and chemicals industry.
Circularise says that its solution helps suppliers to share sensitive data, like material composition, environmental footprint or LCA data, without risking privacy and confidentiality. This is achieved with technology, which allows suppliers to be in control of which data they want to share.
Circularise's co-founder, Jordi de Vos, says: "We're happy to welcome Neste, Brightlands Venture Partners, 4impact and Asahi Kasei as our investors. Our mission has always been clear: accelerating the shift towards a circular economy through supply chain traceability and transparency.
"This funding round enables us to scale our business operations, product, R&D as well as to expand our international team. It will not only accelerate our growth as a leading software provider for supply chain traceability, but also support the transition to a circular economy on a global scale."
The agreement concerning capital injection has been signed, and the completion of the investment is subject to customary closing conditions. The investment is supplemented with grants from the European Commission.
"Brightlands Venture Partners is excited to lead this Series A round with such a strong consortium of VCs and industry players. The Circularise team truly understands the challenge of bringing transparency to complex supply chains in the chemical industry and has developed a unique portfolio of tools to enable and facilitate this transition.
"We believe that combining the unique skill set of the Circularise team with the deep sector expertise of Brightlands Venture Partners will allow Circularise to accelerate in bringing supply chain transparency to the chemical industry," says Mary McCarthy, Partner at Brightlands Venture Partners.