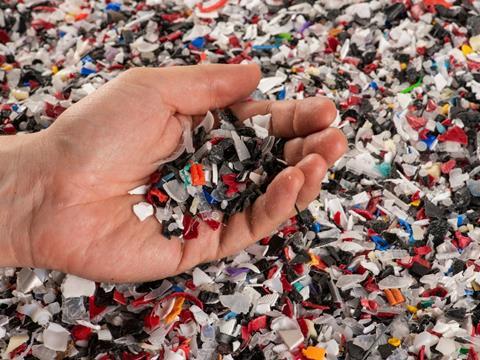 Mura Technology is opening its first commercial-scale HydroPRS advanced plastic recycling plant in Teesside, UK, processing 'unrecyclable' flexible and rigid mixed plastics into recycled hydrocarbon feedstocks for repeated plastic production.
Located at the Wilton International industrial site, the site reportedly has the capacity to produce 20ktpa of recycled liquid hydrocarbon products and expand its production capacity by over three times its initial size in the future. It is said to have created 150 jobs during its build and commissioning phases and now expects to offer up to 50 direct jobs and a further 100 surrounding related infrastructure to support operations.
The company anticipates that its offtake partners will receive their first delivery of recycled hydrocarbon products from the Teesside facility early next year.
HydroPRS is a process designed to complement mechanical recycling and produce recycled plastic feedstock to manufacture new plastics, in turn facilitating a circular economy. It makes use of supercritical water, or water under high pressure and temperature, and converts films, pots, tubs, trays, and other post-consumer, multi-layered plastics into stable hydrocarbon feedstocks.
Independent Life Cycle Assessments have been carried out at Teesside and suggest that the process saves 80% of carbon emissions by diverting these 'unrecyclable' plastics away from incineration. Apparently, materials can undergo unlimited cycles of the HydroPRS recycling process, which would cut down on single-use plastics and drive circularity within the plastics industry.
For every tonne of plastic waste produced, HydroPRS is also said to save up to five barrels of oil and create products with an equivalent or lower Global Warming Potential.
Local mayor Ben Houchen will deliver a speech at the opening of the facility. Also set to attend are Marco ten Bruggencate, commercial VP for EMEA at Dow and President of Plastics Europe; Benny Mermans, vice president of Sustainability at Chevron Phillips Chemical (CPChem); Jinsuk Kim, managing director of LG Chem Europe; Doug Kelly, vice president of Technology at KBR, Mura's License and Engineering Partner; and Dr Paul Davidson, Director of UK Research & Industry's Smart Sustainable Plastic Packaging Challenge delivered by Innovate UK.
Dr Steve Mahon, CEO of Mura Technology, said: "The opening of our first-of-its-kind, next generation recycling facility is a groundbreaking achievement and the culmination of four years of dedication.
"Our HydroPRS process is unlocking a new market for plastic waste, creating value and keeping both plastic and carbon in circularity. The technology works alongside existing mechanical recycling to ensure no plastic types are considered 'unrecyclable' and require incineration or landfilling.
"With support from our partners, the Teesside site will be the first in Mura's global roll-out, helping in the fight against the plastic pollution and global warming crises and acting as a launchpad for the 1,000,000 tonnes of annual recycling capacity that Mura plans to have in operation and development in this decade."
Partnerships with blue-chip companies like KBR, CPChem, LG Chem, and igus GmbH are helping Mura pursue global scaling for the HydroPRS process. Its collaboration with Dow has resulted in plans to construct a HydroPRS advanced recycling facility in Böhlen, Germany, scheduled to begin operations in 2025.
In similar news, Swedish Plastic Recycling's Site Zero plant site, which aims to recycle all kinds of plastic packaging without emitting CO2, has scheduled its own grand opening on 15th November 2023. The company expects its opening to commence a 'new era' for the recycling of plastics.
Amcor and Mondelēz International have also signed investment agreements to help Licella construct what claims to be one of the first advanced recycling facilities in Australia; it is expected to process 12,000 tonnes of end-of-life plastics annually.
If you liked this article, you might also enjoy:
The L'Oréal approach to packaging sustainability
What steps is Apple taking to make its packaging more sustainable?
How did Brazil achieve its 100% aluminium can recycling rate – and can it be replicated in the EU?
Experts have their say on the EU's Packaging and Packaging Waste Directive revisions
Also, if you're interested in packaging sustainability, you will want to attend our Sustainable Packaging Summit in Amsterdam on 14-15 November. The Summit brings together leaders and pioneers from across the industry to align strategically, learn, network, and create a critical mass to accelerate change. You can learn more by clicking here, and you can buy a ticket to attend here.