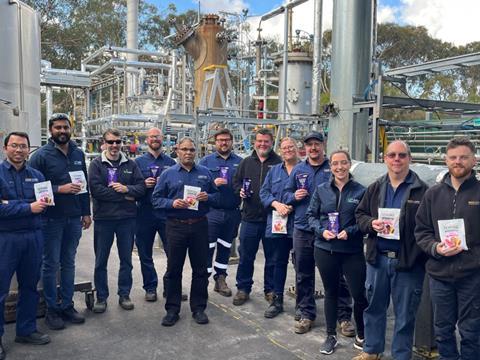 Amcor and Mondelēz International have signed investment agreements to help Licella construct what claims to be one of the first advanced recycling facilities in Australia and work towards processing 12,000 tonnes of end-of-life plastics every year.
Licella is set to utilise Catalytic Hydrothermal Reactor (Cat-HTR) technology – an advanced hydrothermal liquefaction or HTL technology – to recycle end-of-life plastic back into a crude oil substance and produce new food-grade plastic packaging. This process uses hot, pressurised water to continuously recycle end-of-life plastics.
Based in Melbourne, the Advanced Recycling Victoria facility is initially set to process approximately 20,000 tonnes of end-of-life per annum. Mondelēz International – parent company of Cadbury, Pascall, The Natural Confectionery Company, and more – will have access to the recyclate via Amcor and expects to implement it into soft plastic packaging sold in Australia, thus reducing its demand for virgin plastic.
It is hoped that the collaboration will model the kind of industrial leadership necessary to achieve environmental and economic benefits in Australia, as well as offer customers and consumers a wider range of sustainability-minded packaging solutions.
Dr Len Humphreys, CEO of Licella, explained: "The investment from Mondelēz International and Amcor ANZ has come at a crucial time in the progression of the ARV project and will help advance us to the next stage of viability, moving towards construction of this Australian first advanced recycling facility.
"This is the leading technology of its kind globally and this project will be a key lever for companies to deliver on the national sustainable packaging targets as demand for sustainable plastic solutions grows here and overseas."
Mike Cash, president of Amcor Flexibles Asia Pacific, continued: "Amcor will be able to meet increasing customer demand for recycled content in the region with this investment, as well as take another step closer to achieving our target of 30% recycled content across Amcor's portfolio by 2030.
"We're excited to be joining forces with Licella and Mondelēz to enable the local production of innovative packaging made from local end-of-life plastic. By partnering with key leaders across the value chain, we can help strengthen recycling systems and advance circular solutions that reduce packaging waste well into the future."
"We're committed to taking the lead and responding to our consumers who we know want their soft plastic wrappers to be recycled again and again," added Darren O'Brien, president of Mondelēz Australia, New Zealand and Japan. "We set new ground when we sourced the equivalent of 30 per cent recycled content for our Cadbury family blocks but our ambitions are much greater than this.
"We're on a mission to becoming the most sustainable snacking company in Australia and New Zealand and by collaborating with peers and investing in better systems at scale, we're making our business more resilient, while creating long-term value for the country and world at large."
In other news, a new partnership, Blue Polymers, has been formed by Republic Services and Ravago in a bid to produce 100% post-consumer recycled resin for packaging and achieve circularity in the plastics industry.
Indorama Ventures has also completed the expansion of its recycling facility in Brazil and now expects to increase its production capacity from 9,000 tons to 25,000 tons of post-consumer recycled PET every year.
If you liked this article, you might also enjoy:
The Lidl approach to packaging sustainability
How did Brazil achieve its 100% aluminium can recycling rate – and can it be replicated in the EU?
Experts have their say on the EU's Packaging and Packaging Waste Directive revisions
A deep dive into the most important packaging sustainability trends and solution