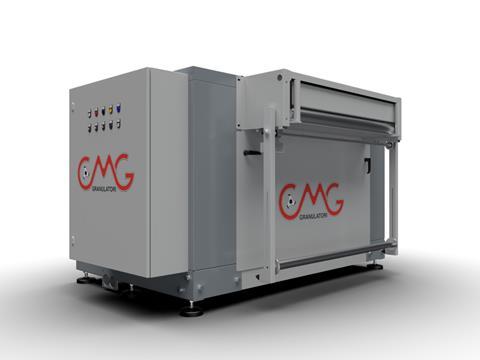 CMG Granulators has introduced a newly-designed granulator for in-line scrap recycling suitable for thermoformed rigid plastic applications.
According to CMG, the new GT series includes four models that are suitable for small to medium capacities and can cover applications ranging from 200 through to 1,000 kg/h. The granulators are reportedly suitable for sheet, skeletal sheet, and reject parts grinding.
CMG says the signature feature of the GT series is the blade set-up design, with the rotor blades positioned at a high degree of inclination, 50o, in respect to the bed blade. This reportedly guarantees the best cutting precision, the highest dimensional homogeneity of the regrind, the lowest sound emissions, and the absence of powder.
In addition, the "bolt & dowel" assembled cutting chamber does not utilise cast or welded components, according to CMG. The company adds that all parts are CNC machined to obtain the highest precision of assembling to the 100th of a millimetre.
CMG claims that 20 Wh/kg is the amount of energy used by the GT series, compared to over 40 Wh/kg consumed by conventional units. The company also notes that all GT models are low profile and sound enclosed, meaning they can be positioned underneath the finished product conveyor belt while keeping the production environment as quiet as possible.
The position of the screen is underneath the cutting chamber, CMG adds. This apparently offers the highest performance of discharge to enable minimal residence time of the regrind in the cutting chamber and the highest throughput.
The company says the unit is evacuated through a full-vacuum evacuation system that preserves the integrity of the regrind by conveying it under negative pressure in large diameter pipes, while also eliminating any possible power generation and pollution.