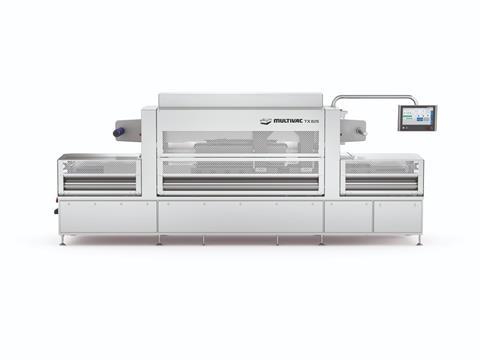 MULTIVAC is adding three new traysealer models to its TX8 series, with the range's new format width especially suited to packaging products such as ready meals in large trays while offering optimum output and digital solutions.
The wide-format TX 815, TX 825 and TX 835 traysealers enable trays with a width of 270 mm to be run in a two-track format, or alternatively with a width of up to 560 mm in a one-track format, which offers a high output of large trays with "wide set leading", according to MULTIVAC.
The new machines are specifically designed for packaging a wide range of food products or ready meals in family packs and catering trays.
In particular, MULTIVAC says that the two-track machines are suited to skin packs, with its tandem gripper – which guides the trays through the packaging process and ensures products are transported securely – enabling the high outputs to be achieved. Outputs of up to 100 skin packs per minute can reportedly be achieved depending on the tray size and product protrusion.
Like all traysealers from MULITVAC's TX range, the new machine models are equipped with Multi Sensor Control and Flow Manager, which the company says enhances the machines' high output, reliability, and optimum pack quality with an even product flow.
Additionally, all models are prepared in advance for MULTIVAC's digital solutions, with MULTIVAC Smart Services already available to customers. By linking with the packaging machine digitally, MULTIVAC says it is possible to access information about the current production status from any location, while monitoring and optimising the packaging process, detecting bottlenecks and faults, and creating new recipes.
The TX models can also be connected online with MULTIVAC Pack Pilot, which automatically sets the machine parameters, simplifying the setup process for new products, trays, and films. The company claims this makes it possible to achieve a "very quick" production start, even with new pack or product applications.
The other MULTIVAC Smart Services available include Smart Production Dashboard, Smart OEE Analyzer, Smart Log Analyzer, Smart Data Backup, and Smart Machine Report, which customers can decide on immediately or at a later date.
MULTIVAC adds that the existing dies on the machine can be used with all the service packages. The new TX traysealers' die concept, X-tools, also adds to pack quality and uniformity by distributing sealing forces evenly on every tray. RFID-coded dies are also available for additional security for companies that run many different tray formats and have frequent die changes.