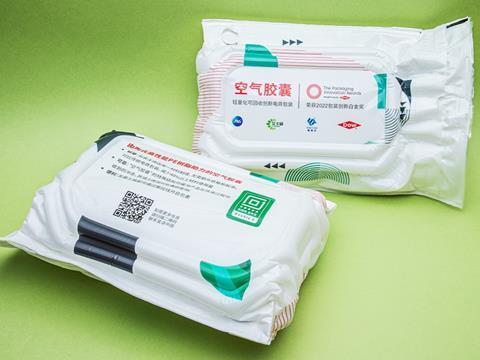 Dow and Procter & Gamble China have developed a mono-PE air capsule for e-commerce packaging said to reduce material usage and offer a weight reduction of over 40% compared to traditional corrugated parcel boxes.
The pack is made from ELITE AT PE resins from Dow, which reportedly enables recyclability and replaces traditional, multi-material alternatives. Its mono-PE structure also offers high gas barrier performance and allows manufacturers to phase nylon out of their packaging, the companies claim.
The entire pack serves as 'safe and reliable' cushion protection – an alternative to the standard e-commerce solution of carton box outer packaging and air cushion bags or bubble wrap wrapped around the product.
Designed for reliability and convenience, the solution offers a tamper-free opening to increase the security of the pack. Its easy-to-tear strip and auto-deflate feature intend to facilitate easy opening and disposal. Due to its reduced weight, the pack claims to require 25% of original trucking and 75% less warehouse space.
The solution is hoped to contribute towards Dow's overall goals of achieving recyclability or reusability in 100% of its packaging by 2035 and carbon neutrality by 2050.
"The rise of e-commerce has inevitably generated an increase in packaging waste," said Bambang Candra, Asia Pacific commercial vice president, Dow Packaging & Specialty Plastics. "At Dow, our role is to develop materials that enable better performing, sustainable packaging that is designed for recyclability from the start.
"Through our collaboration with P&G China, we not only meet the needs of consumer brands and e-retailers, but also enable consumers to do their part with materials that close the loop on packaging waste."
"At P&G, we are focused on optimising our packaging design and committed to driving greater circularity in plastic packaging," added Neo Yang, packaging innovation leader, P&G China.
"Partnering with Dow has enabled us to make progress in our commitment toward achieving 100 percent recyclable or reusable packaging by 2030.
"The development of our air capsule e-commerce packaging is a step in the right direction, and we hope to continue collaborating with more partners to drive such impact at scale."
In 2022, Cortec Advanced Films revealed a self-seal bubble bag in an effort to prevent damage in the manufacturing, shipping, and storage processes for electronic components.
Flöter Verpackungs-Service GmbH has subsequently developed 100% recycled, FSC-certified biodegradable paper air cushions for e-commerce applications, and while Fiberwood's protective packaging materials made from side streams of the mechanical wood industry have received seed funding from Metsä Spring.
If you liked this article, you might also enjoy:
McDonald's Director of Sustainability in Europe on the company's approach to packaging sustainability
McKinsey on whether or not on-pack sustainability claims affect consumer spending
Perspectives from industry-leading experts on the EU's Packaging and Packaging Waste Directive revisions
A deep dive into the most important packaging sustainability trends and solutions