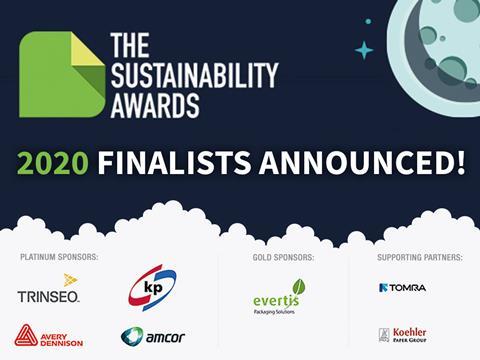 We are delighted to announce the full list of finalists for our 2020 Sustainability Awards! These ground-breaking innovations will go on to compete for the most coveted prizes in packaging sustainability.
This year's edition of the awards attracted a record-breaking 275 submissions – up nearly 50% on last year's record and representing every continent across the globe.
A new category, 'Pre-commercialized innovation', has been introduced to the competition this year and has proved especially competitive – reflecting the volume of new innovation coming into the value chain.
So, without further ado, here are the innovations that will compete for the top prizes at the Sustainability Awards 2020: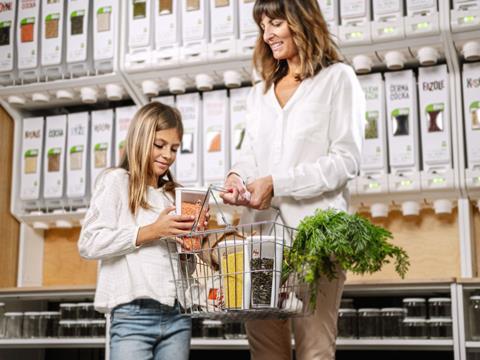 Driving the Circular Economy
Ariel liquid detergents bottles with 50% rHDPE (P&G, Belgium)
High opacity & premium whiteness PET with 0% TiO2 content (PENN COLOR, Netherlands)
MIWA reusable packaging system (MIWA Technologies, Czech Republic)
Blue Tube Evo Lightweight 100% recycled aluminium tube (TUBEX Aluminium Tubes, Austria)
Recyclable Packaging
BericapValve silicon-free valve (Bericap Holding, Germany)
Push Tab loop recyclable unit dose pharma packaging (Huhtamaki, Germany)
Ultra-high barrier sandwich film (Max Speciality Films, India)
KORORCY mono-PE stand-up pouch (Korozo Flexibles, Turkey)
Matrix paraffin-free paper-based packaging (Amcor, France)
NB: we have five finalists in this category rather than the usual four due to two submissions in fourth place attaining exactly the same total score.
Resource Efficiency
Eco PBL 240/9 tube laminate with 20% material reduction (Huhtamaki, Germany)
Frugal Cup coffee cup made from recycled paperboard (Frugalpac, UK)
'Second skin' paper champagne case (Maison Ruinart, Pusterla 1880, and James Cropper, France)
Volvic 8L 100% rPET bottle (Danone, France)
Best Practice
EasyD4R® publicly shared software tool for evaluating recyclability of packaging (Henkel, Germany)
Ecover recyclable, reusable laundry bottle (people against dirty, Belgium)
GaBi Packaging Calculator Plus web-based LCA (Sphera, Germany)
Loop reuse platform (TerraCycle, USA)
Machinery
Boomerang Horizontal Stability Tester (Safe Load Testing Technologies, Spain)
PaperForming Technology (Syntegon, Germany)
Non-impact digital finishing technology (Highcon, Israel)
Slimbox - perfectly fitted packaging (Fit Things, Belgium)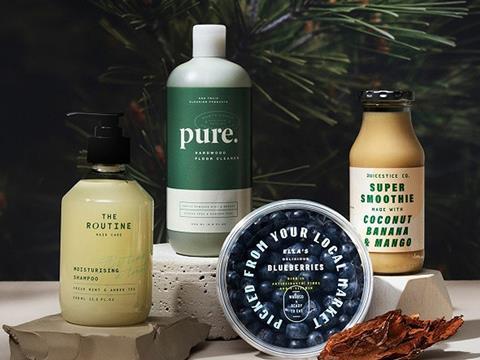 Bio-Based Packaging
ARES polyamide adhesives (ATG DIRECT INC, Canada)
bioORMOCER® biodegradable functional barrier coatings (Fraunhofer Institute for Silicate Research, Germany)
monta biopack® bio-based adhesive tape (monta Klebebandwerk, Germany)
Forest Film (UPM Raflatac, Finland)
Pre-Commercialised Innovation
Closing the Glass Recycling Loop method to produce briquettes from the fine particle glass (Ardagh Group, UK)
COLOR-IN / COLOR-OUT decolouration process (Smart Coloring, FuturePackLab, and POPULAR PACKAGING, Germany)
Fully recyclable plastic aerosol container – PET dip-tube with polymer valve (P&G, USA)
Pilot packaging made with 100% chemically recycled material (BASF, Germany)
Sustainable aerosol foam dispenser (Triple Line Technology, UK)
NB: we have five finalists in this category rather than the usual four due to two submissions in fourth place attaining exactly the same total score.
The winners in each category and the overall 2020 Sustainability Awards winner will be announced at our Sustainable Packaging Summit, now taking place as a virtual event, in the autumn.
Over the coming weeks look out for more details about each of the 30 finalists, and perspectives on sustainable packaging from our Sustainability Awards 2020 judges and sponsors.