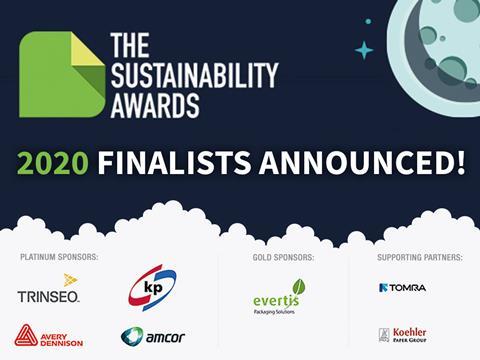 Bio-Based Packaging
ARES polyamide adhesives (ATG DIRECT INC, Canada)
bioORMOCER® biodegradable functional barrier coatings (Fraunhofer Institute for Silicate Research, Germany)
monta biopack® bio-based adhesive tape (monta Klebebandwerk, Germany)
Forest Film (UPM Raflatac, Finland)
Pre-Commercialised Innovation
Closing the Glass Recycling Loop method to produce briquettes from the fine particle glass (Ardagh Group, UK)
COLOR-IN / COLOR-OUT decolouration process (Smart Coloring, FuturePackLab, and POPULAR PACKAGING, Germany)
Fully recyclable plastic aerosol container – PET dip-tube with polymer valve (P&G, USA)
Pilot packaging made with 100% chemically recycled material (BASF, Germany)
Sustainable aerosol foam dispenser (Triple Line Technology, UK)
NB: we have five finalists in this category rather than the usual four due to two submissions in fourth place attaining exactly the same total score.
The winners in each category and the overall 2020 Sustainability Awards winner will be announced at our Sustainable Packaging Summit, now taking place as a virtual event, in the autumn.
Over the coming weeks look out for more details about each of the 30 finalists, and perspectives on sustainable packaging from our Sustainability Awards 2020 judges and sponsors.