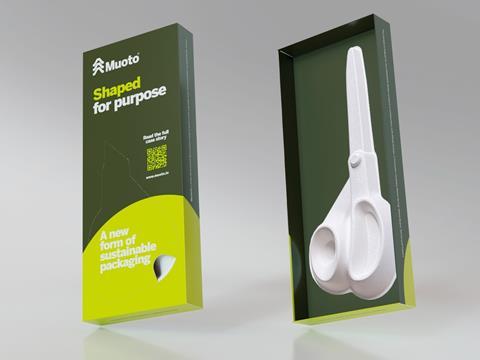 A new gift pack for Fiskars Group's ReNew scissors made from recycled material has incorporated Metsä Group's folding boxboard and Muoto 3D inner fibre packaging in a collaboratively developed design.
Muoto 3D fibre packaging is made from Finnish wood, said to be both sustainably grown and renewable. Wet wood fibre pulp is processed at Metsä Group and Valmet's joint demo plant in Äänekoski to produce the protective material, which is available in various shapes and sizes and can be tailored to specific end uses.
Its application to Fiskars Group's gift pack forms part of Muoto 3D's demo stage and serves to test the material on the market. Metsä Group's innovation company Metsä Spring, Metsä Board, and Fiskars Group were jointly responsible for designing the pack at Metsä Board's Excellence Centre.
While the Muoto 3D inner packaging is moulded to fit the shape of the scissors, Metsä Board's paperboard box apparently offers a high-quality printing surface for the outer pack.
Tarja Heikkilä, product manager at Metsä Spring, comments: "Plastic is everywhere, and while it will continue to play a role in the future, there are countless end uses in which we can use a renewable and recyclable bioproduct instead of plastic.
"Muoto 3D fibre packages can be shaped in many ways: they are pressed into their final form using new 3D technology that enables the production of rounded, complex shapes familiar from the plastics industry. It is also suitable for creating lightweight yet stiff packaging structures offering good protective properties."
"Fiskars Group believes that forerunner design is sustainable," continues Fiskars packaging design manager Marko Halttunen. "It covers the entire chain from ideation to sourcing, manufacturing, and business development. We want to challenge throwaway culture in all its forms.
"Now in the demo stage, Muoto's production technology and raw material make the product a good example of interesting new initiatives that we're working on in cooperation with sustainable partners."
Other recent developments from Metsä Board include what claims to be the world's lightest pizza box and the contribution of dispersion-coated paperboard for an advent calendar launched by Fazer.
DS Smith worked alongside Laylo in April to optimise the sustainability of its premium boxed wine packaging via its Circular Design Metrics analysis software; and a luxury gift wrap made of paper pulp and vine shoot was previously unveiled by Maison Perrier-Jouët and Colourform by James Cropper.
If you liked this article, you might also enjoy:
McDonald's Director of Sustainability in Europe on the company's approach to packaging sustainability
McKinsey on whether or not on-pack sustainability claims affect consumer spending
Perspectives from industry-leading experts on the EU's Packaging and Packaging Waste Directive revisions
A deep dive into the most important packaging sustainability trends and solutions