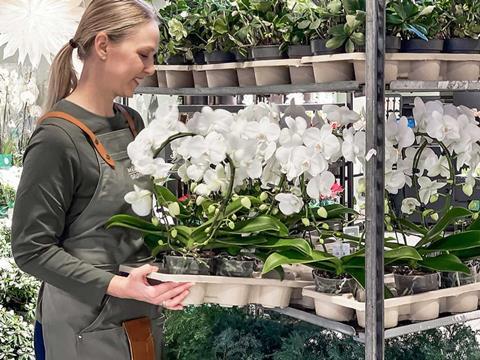 Mester Grønn and Stora Enso have revealed a formed fibre transportation tray for plants in the hopes of lowering the CO2 emissions associated with plastic alternatives and reducing the flower industry's environmental impact.
According to the flower chain, plastic has become a staple in the industry due to its water resistance, which is useful for holding and growing plants. Trays are often made of carbon black plastic and are difficult to detect during the sorting process at recycling facilities, resulting in rejection.
"We need to become greener, we are representing a green industry so we can't be playing against nature, we have to be on the same team," says Erling J. Ølstad, CEO of Mester Grønn.
Therefore, Mester Grønn joined forces with Stora Enso to find an alternative. This tray needed to maintain its rigidity in both humid and dry conditions, survive water exposure, and fit the existing logistical chain by adhering to industry standards.
It is thought that PureFiber moulded fibre meets this criteria. Stora Enso's PureFiber Horti tray is designed to be both plastic- and PFAS-free and is apparently produced with sustainably sourced Nordic wood using 100% bio-energy.
A critically reviewed Life Cycle Analysis suggests that this tray extracts between 45% and 80% fewer fossil resources from nature than single-use plastic trays and cuts CO2 emissions by 56-81% compared to recycled plastic trays. Differences in logistics and waste handling between the four countries studied account for the varying percentages.
Rather than disposing of the trays after single uses, Mester Grønn is planning to reuse the trays and offer growers at a lower price.
"It's plastic-free and made from formed fibre, yet it's a completely different product than the paper trays we have tried in the past," Ølstad continues. "Working with Stora Enso on this has been fantastic, they know how to make an idea a reality. They are thorough, have resources and go the extra mile."
"We are very happy about the results," adds Mari Bøhm Telle, Marketing team at Mester Grønn. "It could make a difference for the whole flower industry in Europe, that's what we are hoping!
"They get a good price and we get a cycle of reusage. It's a win-win!"
Elsewhere in the gardening sector, Veolia worked with Miracle-Gro and Dobbies Garden Centres to collect LDPE bags and reprocess them into new bags, plastic films, garden furniture, and other products.
In other news, DS Smith Tecnicarton has launched its MAX lamination technology in a big to strengthen the resistance of corrugated cardboard packaging, optimize its stacking capabilities, and realize its potential as a reusable and fully recyclable transport solution.
If you liked this article, you might also enjoy:
The L'Oréal approach to packaging sustainability
What steps is Apple taking to make its packaging more sustainable?
How did Brazil achieve its 100% aluminium can recycling rate – and can it be replicated in the EU?
Experts have their say on the EU's Packaging and Packaging Waste Directive revisions