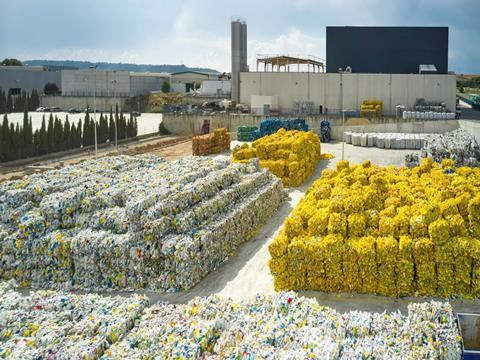 A life cycle assessment (LCA) commissioned by ALPLA Group has found that recycled HDPE (rHDPE) from its Spanish recycling plants offers up to 88% fewer carbon equivalent emissions compared to virgin material.
Already an established partner for PET recycling, ALPLA Group moved into HDPE recycling in autumn 2019 with the purchase of two Spanish recycling plants, Suminco in Montcada i Reixac and in Venta de Baños.
ALPLA focuses particularly on colour sorting of HDPE, which it says maintains a high-quality recycling process, preserves colour streams, and keeps packaging in a closed loop for longer. For example, turning yellow HDPE into yellow HDPE reportedly reduces the use of colour pigments, while preventing comminglingly and thus the 'greying' of the material; the same principle can be applied to other HDPE colours.
According to ALPLA, this enables it to meet customers' marketing requirements and produce examples of coloured packaging using recycled materials.
The company has since commissioned c7-consult, an independent business consultancy focusing on life cycle assessments, to calculate the carbon footprint of rHDPE.
ALPLA claims the LCA found that the rHDPE produced in Montcada has a carbon footprint of 0.24kg of carbon equivalents per kilogram, which apparently equates to 88% fewer greenhouse gas (GHG) emissions compared with virgin HDPE. The footprint of virgin HDPE, in comparison, is 1.92kg of carbon equivalents per kilogram, according to the LCA.
Meanwhile, the rHDPE produced in Venta de Baños has a carbon footprint of 0.28kg of carbon equivalents per kilogram, ALPLA says. This reportedly means that rHDPE produced in the second facility has an 85% lower carbon footprint compared to virgin HDPE.
ALPLA adds that the analysis covers the separate collection and sorting of post-consumer HDPE bottles (primarily in Spain), shipment to the ALPLA recycling plants, and washing and processing into rHDPE pellets. The two plants currently have an annual capacity of approximately 25,000 tonnes of rHDPE.
Günther Lehner, chairman at ALPLA, comments: "The saving of up to 88 per cent CO2 with rHDPE in comparison to virgin material confirms once again that our investments in our global recycling activities are worth it. We wish to continue on this path in the future too."
In 2020, ALPLA unveiled what, at the time, it claimed was the world's first carbon-neutral recycled PET, with up to 90% lower carbon emissions compared with virgin material.