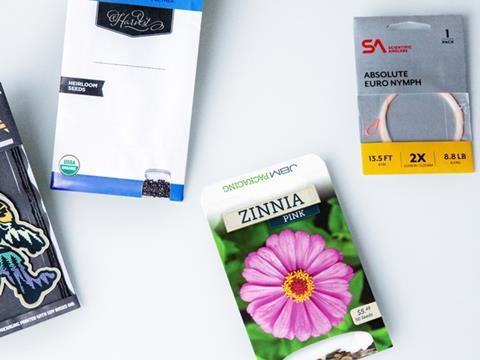 JBM Packaging has launched EcoView, a plastic-free, windowed paper pack which uses a clear biodegradable film made from wood and cotton-seed fibres.
As a whole, the pack is designed to serve as an alternative to multi-material or "poly" film packages made of non-renewable sources. It comes in three different sizes – the sneak peek, partial view, and full display – to offer customers varied yet consistently clear views of the products within.
EcoView can be customised to meet individual customers' sustainability goals, utilising differing percentages of recycled content and a variety of papers, closures, and hanging holes. As such, each package can be tailored to look unique.
The pack makes use of JBM's FiberFilm, a proprietary transparent film derived from wood pulp – in itself said to be PEFC-certified, with the final film reportedly meeting TÜV's environmental regulatory standards.
As it is made of diacetate, FiberFilm is compatible with kerbside recycling systems, but it has also achieved certification for home composting and is thought to serve this function best in natural, freshwater environments.
"People want to enjoy natural environments without seeing plastic waste littered alongside hiking trails and waterways," said David Warren, vice president of Sales and Marketing at JBM Packaging. "Our EcoView packaging line evolved from customers looking for curbside recyclable packaging solutions that showcased their product and eliminated plastic. EcoView delivers optimal packaging performance without the environmental impact."
Previously, Mondi and Fiorini International worked together to create a paper bag set to package Antico Pastificio Umbro's pasta products. It is reported to be entirely recyclable in existing paper streams, including its transparent cellulose window.
KM Packaging's C-Cling clingfilm, meanwhile, is also said to be home compostable, as it is made from bio-based renewable materials. It is set to package fresh products in catering and retail and can be paired with compostable trays for a complete packaging solution.