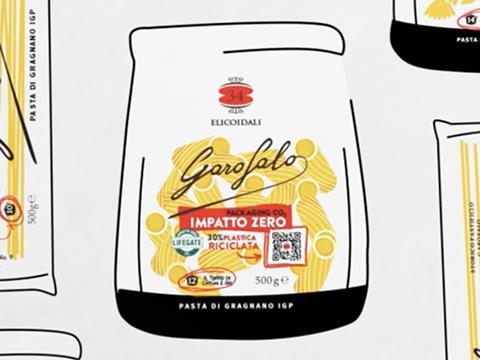 Pasta Garofalo has launched new recyclable packaging made from 30% recycled material, which is obtained via a chemical recycling process.
The company claims to be the first in the pasta sector to use recycled plastic obtained from chemical recycling, which for this application makes it possible to obtain pyrolysis oil from the decomposition of the polymers that make up traditional plastic packaging waste, converting them into the raw material that can be used to produce new packaging.
It is hoped that, in this way, new recycling possibilities can be opened up for fractions of waste that can often be difficult to recycle such as plastic from domestic collection. However, Garofalo has also noted that the process is still expensive at the moment – and describes the material it uses as being of "limited availability".
The solution will initially be rolled out to five packaging formats, with the company intending to extend its usage further in the future.
The transparency of the packaging has been maintained, which leaves room for the pasta to show what Garofalo describes as its "natural imperfections". A narrative label plays a leading role and clearly reports the pillars at the base of the project.
Meanwhile, an on-pack QR code links to a purpose-built website which includes content that is geared towards educating consumers about sustainability practices.
If you liked this article, you might also enjoy:
McDonald's Director of Sustainability in Europe on the company's approach to packaging sustainability
McKinsey on whether or not on-pack sustainability claims affect consumer spending
Perspectives from industry-leading experts on the EU's Packaging and Packaging Waste Directive revisions
A deep dive into the most important packaging sustainability trends and solutions