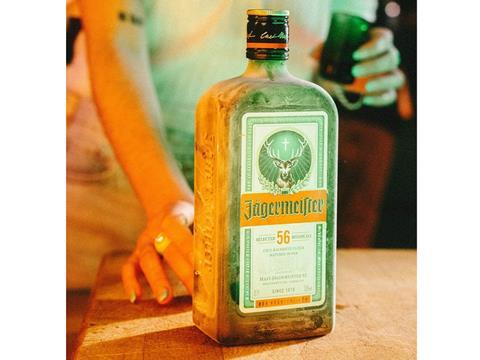 A new promotional campaign from Jägermeister called The Secret is Ice Cold is centred around active and intelligent packaging. It encourages consumers to place Jägermeister bottles in the freezer to reveal a hidden code for a chance to win special prizes.
Once the beverage reaches the optimal temperature of -18ºC, the bottle's temperature-sensitive back label reveals the secret code, which consumers can then use for an accompanying website to see if they've won any prizes. AIPIA is not sure which company has produced the label for this promotion, but it is a new twist to the thermochromic ink-enhanced labels that several major alcoholic and soda brands have adopted, such as Coors and Coca-Cola.
The brand has released 500,000 bottles in the UK for the promotion and has over 1,500 prizes available. For the grand prize, one winner could find the code that contains tickets to a European Jägermeister festival experience to enjoy with three friends. Other prizes include mini- Jägermeister chillers, The Cradle freezers and £50 in Jägershop e-shop vouchers as well as branded shot glasses.
During the recent Oktoberfest in Munich, Jägermeister celebrated the beer festival's return after a three-year hiatus with a pop-up store at Munich Airport, which will run until the 31st of October. The pop-up, called Gate 56 - inspired by the 56 herbs, flowers and roots used to make the product - aims to bring the Jägermeister and Oktoberfest experience to life and put travellers firmly in the party spirit.
Mast-Jägermeister director of customer development Hans Vogt explained, "Jägermeister is now ranked the eighth best-selling brand line according to the latest IWSR data [from IWSR's Top 20 International Premium Spirits Brand Lines 2022], proving our premium credentials as well as our commitment throughout the pandemic to consumers and customers. We will continue to invest and remain visible and look forward to accelerating our growth further in the future."
More than just a way to engage consumers, the company says the Secret is Ice Cold packaging technology and promotion reinforces the brand's message of the beverage being best enjoyed ice cold. The competition is being supported across social media platforms including Facebook, YouTube, Instagram and Twitter as well as consumer press.
Want to put yourself at the forefront of smart packaging innovation? Click here to get your tickets for the AIPIA World Congress, which takes place in Amsterdam on the 14th and 15th of November 2022.
This article was created in collaboration with AIPIA (the Active and Intelligent Packaging Industry Association). Packaging Europe and AIPIA are joining forces to bring news and commentary about the active and intelligent packaging landscape to a larger audience. To learn more about this partnership, click here.