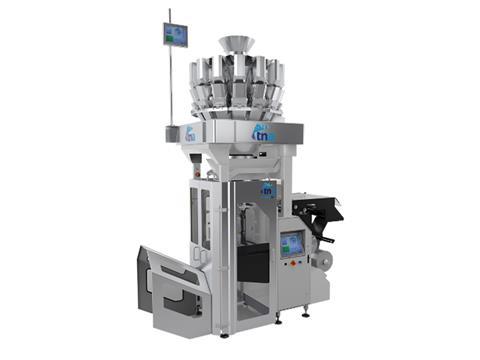 TNA has added the brand-new TNA auto-splice 3 to its packaging portfolio. The innovation is designed to sit alongside the TNA robag 3e, a vertical form, fill and seal food packaging solution that was launched in 2021.
The new system is designed to automatically join a new film to an expiring film roll with no interruption to the packaging line.
A key objective for the solution is to help food producers address growing concerns over labour shortages and rising resource costs by enhancing production efficiencies. The company says that the two systems together deliver a new CXE integrated display controller and automatic film splicing, which combined can reportedly deliver up to a 5% increase in production uptime.
Featuring EtherCAT real-time protocol and an integrated display controller system, TNA says that the product reduces cabling infrastructure by 20%, enabling easier servicing and lower total installed costs. The TNA robag 3e also shares common core components with TNA roflo distribution conveyors and the TNA intelli-flav seasoning system, reducing the need for additional spare parts stocking, while its smart diagnostics and remote connectivity allow real-time communication.
According to TNA, the new solution is capable of producing a wide variety of products at speeds of up to 250 bags per minute. As well as providing the opportunity to switch quickly between pack sizes, it apparently delivers production and energy savings for the same power and resources. The system's design also reportedly results in product waste levels as low as 0.1%.
The new rotary reel swapping feature makes it easier to access and replace the film roll without having to stop the packaging system, with the aim of helping manufacturers maximise throughput and achieve faster, smoother film changeovers.