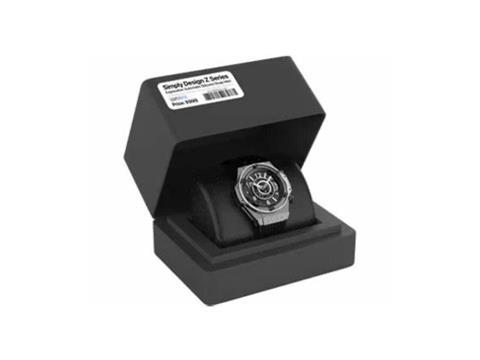 More than 28 billion RAIN RFID chips were deployed in 2021 and it's expected that the market for these tags will have reached 35 billion by the end of 2022. The majority of these chips are low-cost 3-cent 96-bit RFID "product ID tags" used in supply chain logistics for retailers, performing a similar function as the barcode from the 1970s, but with the benefit that they read through a box at a speed of 1,000 items (tags) per second.
USA-based RFID solutions company SimplyRFID is on a mission to educate users and potential users that radio frequency identification technology is now lower in cost than most buyers think. The supply chain is easing and some simple tweaks to inventory processing will help businesses enjoy the benefits of the technology at minimal expense, it says.
The company has now launched an affordable passive UHF RFID tag, the TR800, which is now priced at about 3.6 cents in Asia. The company sells a handheld reader and an app for inventory tracking, priced at approximately $2,000 combined, and it has released a manual for users of its Wave software, designed to help them understand how the technology can be used for quick benefit.
To offer options for companies that want to track more than simple ID numbers, but that still require low-cost tags, SimplyRFID says it is now supporting high-memory 128-bit tags which could provide a limited amount of additional data when interrogated. "What we're trying to do is get the market to realize where RFID actually stands today," says Carl Brown, the company's CEO and president.
The TR800 tag is designed for most retail applications that can be printed and applied with adhesive to existing ticket tags. Its performance runs along the same lines as most modern RFID tags, the company says, with a read range of around 3-4.5m using a handheld reader. It measures 44mm x 19mm and can be attached to apparel labels or price tickets, as well as cardboard and plastic.
SimplyRFID sells the tags online, or as part of a package for its software customers. The pricing changes, but it averages around 4 cents apiece when the tags are purchased in Asia in quantities of 500,000 or more. Delivering the tags to the USA costs an extra cent per tag. Pre-programmed or special versions cost more. During the past year, Brown says, RFID tag demand has been high and has often outstripped supplies, in part due to global chip shortages, as well as the high-volume tag orders being placed by Walmart suppliers to meet RFID tagging mandates. However, the supplies are now catching up, he says.
The TR800 is manufactured using chips and antennas from third-party providers, such as Avery Dennison and BoingTech. The tag came out six months ago and has passed Auburn University RFID Lab certification, and conforms with Walmart's specifications.
This year SimplyRFID has adopted support for 128-bit tags, with its app and readers interoperating with these and standard 96-bit tags so that both can be interrogated in the same way. The value of 128-bit tags is their space for additional data, the company explains, though they do not have as much memory as some specialty tags built for use in aerospace and other applications.
Demand for 128-bit memories has increased as users seek to write additional information to UHF RFID tags, such as the expiration date or lot number of a product, which could help in the event of a recall. Some pharmaceutical distributors have been testing or deploying 128-bit tags so that medication labels could come with a small amount of additional data encoded on them.
This article was created in collaboration with AIPIA (the Active and Intelligent Packaging Industry Association). Packaging Europe and AIPIA are joining forces to bring news and commentary about the active and intelligent packaging landscape to a larger audience. To learn more about this partnership, click here.