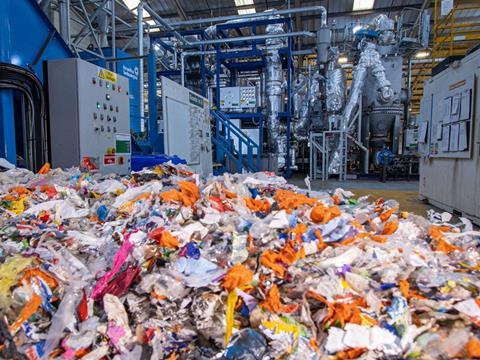 INEOS Styrolution has today confirmed that it will investing in a chemical recycling facility for polystyrene as part of a joint venture with Recycling Technologies, with what is reportedly the first facility of its kind in Europe expected to be operational in the second half of 2022.
The pilot plant, which will be located in Swindon, UK, will be based on Recycling Technologies' fluidised bed reactor technology, which the company claims offers "excellent" scalability. This follows plans announced earlier this year by INEOS Styrolution to build a recycling plant for polystyrene in Wingles, France.
According to the companies, the depolymerisation technology will be used to convert polystyrene waste feedstock back into its main building block, Styrene. The Styrene can then apparently be used to manufacture new polystyrene with identical properties to the virgin material.
The companies add that this monomer recycling process – enabled by the unique properties of polystyrene – eliminates the need to downcycle polystyrene. The depolymerisation process also has lower greenhouse gas emissions compared with the production of virgin polystyrene from naphtha, the companies claim.
Dr. Alexander Glück, president for EMEA at INEOS Styrolution, comments: "With Recycling Technologies, we have found a partner, who is not only offering a very attractive technology, but who is also sharing our own vision to avoid polystyrene ending up in landfills or being incinerated."
Adrian Griffiths, CEO and founder of Recycling Technologies Ltd., adds: "We welcome INEOS Styrolution's decision and are pleased to be a critical element of the team to build Europe's first advanced chemical polystyrene recycling facility.
"Harnessing our fluidised bed engineering technology and expertise to recycling polystyrene is a critical step to making polystyrene circular."
Earlier this week, Packaging Europe spoke to Jens Kathman, Secretary General of Styrenics Circular Solutions (SCS), who discussed data confirming the reduced carbon footprint for polystyrene recycling processes including depolymerisation, although there remains work to be done in terms of securing food contact approval for recycled polystyrene in order to achieve full circularity.
To aid with the design of polystyrene containers, RecyClass has developed guidelines to help determine the compatibility of recycled polystyrene for particular packaging applications. RecyClass's database of recognised auditors for the reliable and impartial monitoring of recycled content in plastics has doubled since its launch in July 2020.
INEOS Styrolution's investment in the Swindon pilot plant with Recycling Technologies marks another step in enhancing the circularity of polystyrene. The company has already made its mechanically recycled polystyrene, called Styrolution PS ECO 440, available in the EMEA region.