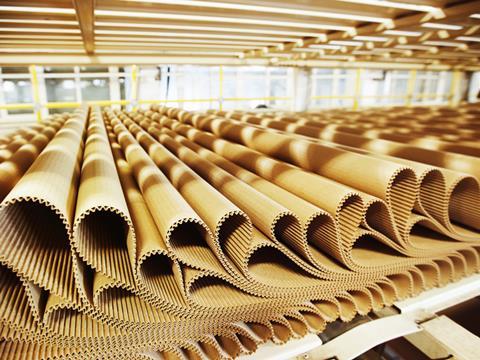 After a relatively buoyant few years, demand for corrugated and folding cartons has fallen off a cliff. So far this year, UK demand for corrugated is down by 10% and folding cartons by 3%; Europe isn't far behind. Neil Osment, Managing Director of paper packaging industry analysts NOA, takes a look at why.
In terms of markets for paper, corrugated and folding cartons are hugely important. While corrugated is very sensitive to changes in demand and responds quickly, folding cartons take a little longer to react, but will generally track demand for corrugated.
Why is this? Corrugated is produced and shipped quickly and can virtually be ordered on a just-in-time basis. By contrast, folding cartons are ordered ahead of time, then made and warehoused until needed. Here, brand owners are predicting future demand, based on retailer feedback. As a result, any changes in demand take a while to make an impact.
So, this explains why corrugated demand has dipped even further than for cartons, but it doesn't complete the story and so requires us to delve deeper. To seek an answer, we need to look a little further back.
Towards the end of 2020 and into 2021, there was growing demand for both types of products. Corrugated demand was spurred on by the explosion in e-commerce, while both benefited from a rising demand for food and drink.
But at the beginning of 2022, demand for corrugated across Europe dropped, by 4 to 5%. This coincided with Amazon cutting its orders, because its own sales were falling as people returned to the office to work and were ordering less of their own product offering online.
Demand for folding cartons was still growing in 2022, so on the face of it all looked well. In fact, what was happening was stock was being built up in the system and throughout the supply chain. Predictions for demand didn't always prove completely accurate, so brand owners were left with cartons for products that weren't selling.
Brand owners were reintroducing SKUs (some that had been mothballed during Covid, when ranges shrank due to supply chain pressures). There was also a move away from products being packaged in plastic shrink wrap and hi-cone formats towards cartons, notably multipacks for beer, cider, soft drinks, and canned food (like soup and baked beans). But, as always, folding cartons has tracked demand for corrugated, and its demand is falling too.
So, what has happened in 2023? The expectation was that demand for corrugated would bounce back, followed by growing demand for folding cartons. However, demand has been supressed, and here's why.
First, the cost-of-living crisis across Europe. Inflation and high fuel prices have affected consumer spending, which in turn has taken its toll on demand for paper packaging.
This has led on to a secondary factor. Money-conscious consumers are switching from branded to own-label supermarket products, as well as putting less in their basket of goods as a total. At the same time, shoppers are moving towards limited list discounters like Aldi and Lidl, who have different packaging needs. As mentioned, for cartons this has led to the overstocking of packaging for products that are no longer shifting.
Thirdly, the ongoing war in Ukraine continues to affect the supply chain. For example, both Ukraine and Russia play key roles in the automotive supply chain and vehicle production. Chemicals, fertilisers, food and grain are similarly affected.
Finally, there has been an increase in the use of returnable plastic containers (RPCs). For example, fruit and veg are more frequently being displayed in RPCs than in previous years, reflecting a growing uncertainty over government policy regarding packaging. This has also taken away a share of the market for corrugated.
So, why this move to RPCs? Let's look again at the introduction of carton multipacks. This didn't happen overnight. Brand owners were making plans to introduce these as far back as 2019, but it takes time to develop a new product, adapt manufacturing equipment and switch production lines.
While brand owners have been allying themselves with paper-based packaging, retailers have been taking a different route. In the face of the new Packaging and Packaging Waste Regulations (PPWR) across Europe, retailers are looking more towards reusable plastic – hence the recent growth in popularity of RPCs. And there's another reason why retailers are opting for RPCs; they work very closely with the companies that hire them to packers and also collect them in for cleaning.
Two different groups, with two different drivers. Brand owners favour paper-based packaging, which can be recycled; retailers prefer to reuse. Recycling versus reuse? It's a debate that could go on for years. It could herald a seismic change for the sector.
And this change is happening across Europe. Germany, Italy, France and the Netherlands, just like the UK, are major users of corrugated and folding cartons.
In Germany demand for corrugated fell back by 7.3% in 2022 compared to 2021, by 4.8% in Italy, -3.4% in France and 3.7% in the Benelux. These were all eclipsed by what happened in the UK last year with a drop of 9.3% year on year for corrugated production output.
Things in Europe are still looking very lack-lustre in 2023, with most countries showing yet another drop off in volumes for corrugated. Folding carton output fared a little better with growth carrying on until Q3, 2022; however, after that (because all stages of the supply chain were now full of stock), demand has started to head towards negative growth in 2023 as well.
Interestingly, the nosedive in demand isn't being replicated in the Far East or North America - not yet anyway. Demand in these markets has stayed positive, but of course they don't have the Ukraine war to deal with and the subsequent commercial fallout, the cost-of-living crisis is less severe, and they are not experiencing the same push and pull between brand owners and retailers. But it may be that where Europe leads, the rest of the world will follow.
So, what will happen to demand for corrugated and folding cartons for the rest of 2023? We believe it will be a year of flux, tension and limited growth. PPWR, which comes into force in June 2024, may mean next year remains equally uncertain, leading to a further delay in recovery. But we also believe recovery will come back in 2025 and for the subsequent years, once PPWR is bedded in. Watch this space.
And as for recycled versus reuse? We've pointed out before that fibre for paper is a farmed product, and can be replaced, while plastic is mined and is finite. Our money is on paper.
If you liked this article, you might also enjoy:
McDonald's Director of Sustainability in Europe on the company's approach to packaging sustainability
McKinsey on whether or not on-pack sustainability claims affect consumer spending
Perspectives from industry-leading experts on the EU's Packaging and Packaging Waste Directive revisions
A deep dive into the most important packaging sustainability trends and solutions