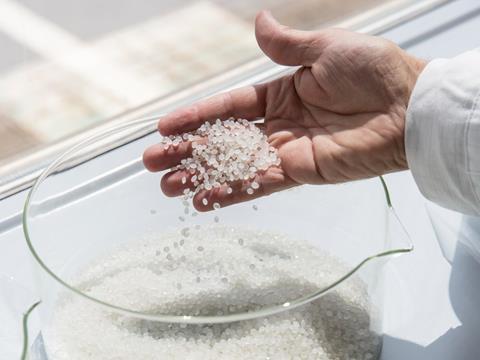 Intraplás has revealed that it will bring TotalEnergies' bio-based RE:newable polymer to the packaging market via food-contact drop-in packaging solutions in a move hoped to reduce customers' carbon footprint.
As part of TotaEnergies' RE:clic portfolio, the RE:newable polymer will be sourced directly from the company's biorefinery in La Mède, France. Its reported virgin-like qualities are thought to allow for carbon reductions in the production of packaging without sacrificing quality, and the material is warranted under the ISCC PLUS scheme.
Intraplás' conversion facilities have received the same certification, and the company reports that this allows for full traceability from RE:newable's production to its final application. The polymer is expected to be utilised in food packaging and provide high-performing, low-carbon, fossil-free packaging solutions to customers.
"Our RE:newable range is essential in achieving TotalEnergies' ambition to produce 30% circular polymers by 2030," said Olivier Greiner, vice president of Polymers Europe & Orient at TotalEnergies. "Our leading position as an integrated player on the market enables TotalEnergies to provide its customers with low-carbon, drop-in polymers from renewable sources in industrial quantities.
"This collaboration with our long-term partner Intraplás is another important milestone. Innovation is increasingly critical for companies to distinguish themselves in an increasingly competitive market."
"If innovating is essential to create value, the sustainability of an innovative product is the best basis for responding to socio-environmental challenges," added Marisa Alves, chief procurement officer at Intraplás. "It is our commitment to offer to the market more eco-friendly packaging solutions.
"We are increasingly investing in the incorporation of materials from renewable sources without compromising food safety, consumer well-being and product performance. This collaboration with our partner TotalEnergies is in line with our goals to reduce our carbon footprint, and provide more sustainable packaging solutions to our customers, consumers and contribute to a better world."
TotalEnergies unveiled its RE:clic range in October last year. Beyond the RE:newable line, it also features the mechanically-recycled RE:use and chemically-recycled RE:build polymers – all of which seek to reduce the carbon footprints of end-use applications.
Additionally, Holmen Iggesund and Yangi have entered into a long-term agreement to produce bio-based and raw materials for use in the packaging for beauty and cosmetic products. The collaboration will utilise Holmen Iggesund's fibre-based materials and Yangi's dry forming technology.
LVMH Group has also signed an agreement with Avantium to secure a fixed volume of the plant-based polymer PEF for use in its cosmetics packaging.