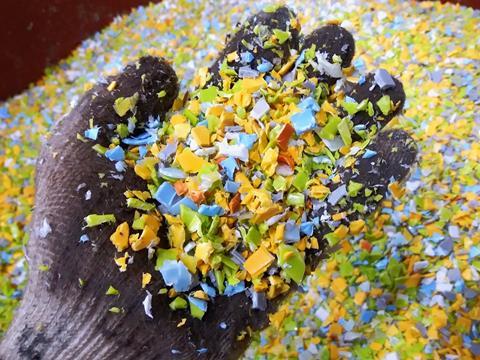 TotalEnergies has launched RE:clic, a new range of low-carbon recycled polymers aiming to reduce the carbon footprint of end-use applications by improving their energy efficiency.
The portfolio is claimed to be based on polymers from recycled material or bio-feedstock, with the company intending to provide customers with the means to achieve their sustainability goals without sacrificing the performance or processability of their current plastic packaging. The polymers are thought to be lighter, and therefore more energy efficient, than other alternatives.
The collection currently consists of three types of polymer, the first being the RE:use range. These are said to contain mechanically recycled plastic originating from post-consumer and post-consumer plastic waste.
Meanwhile, the RE:build polymers claim to be produced through chemical recycling, tracked throughout the process via ISCC PLUS certification. Due to the nature of this process, which is believed to produce recycled plastic of virgin quality, TotalEnergies is marketing these polymers for high-end and contact-sensitive applications.
The third range, the RE:newable polymers, are reportedly derived from bio-based products. Like the RE:build range, they are certified under ISCC PLUS, and are intended to reduce customers' carbon footprints while maintaining virgin-like qualities.
"This announcement marks yet another step forward in TotalEnergies' development of a circular economy for plastics and is fully aligned with the Company's ambition", said Nathalie Brunelle, vice president of Polymers at TotalEnergies. "The products associated with these new ranges are concrete solutions to help us reach our ambition of commercializing 30% circular polymers by 2030."
INEOS Olefins & Polymers Europe recently revealed that Recycl-IN, its range of recycled polymer grades, would be used by Coveris for a new stretch-hood packaging film containing a minimum of 30% recycled material.
Meanwhile, Borealis is aiming for circularity by designing a commercial-scale advanced recycling plant to convert polyolefin-based post-consumer waste into high-performance polymers.
Earlier this year, Nextek CEO Ed Kosior spoke to us about the importance of mono-polymer designs in fully optimising their circular potential, especially in widely used yet less recycled flexible films.