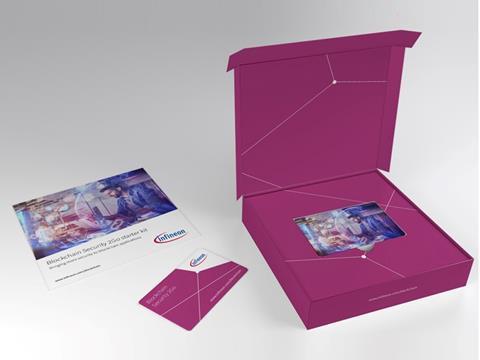 To accelerate the deployment of its brand protection applications, AIPIA member Infineon, a global semiconductor solutions provider headquartered in Munich, has launched the NFC 2Go starter kit for brand protection.
The kit demonstrates consumer product authentication enabled by Infineon's secured NFC tags with an NFC smartphone. The kit includes NFC stickers, iOS and Android mobile apps, backend cloud authentication software, tag personalization tools and a user guide.
Infineon Technologies offers secured NFC tags that meet high security requirements for proving authenticity, it says. The NFC4TCxxx tag includes an open standard security architecture using AES-128 cryptography and is equipped with inherent resistance to physical attacks.
There is a wide range of memory options, from 304 bytes to 4 Kbytes. This enables brands to store data and create customized applications to improve their customer engagement, it claims.
Counterfeit products have a negative impact on brands says the company, not only do they affect revenue, but they also damage brand image with poor user experiences. In industries such as pharmaceuticals and food, counterfeit products can even pose a serious threat to consumer health and safety. Hence, companies are always on the lookout for robust anti-counterfeiting solutions.
These tags can be programmed with brand-specific landing pages that provide additional information about the product and also show the customer a list of similar products.
They can provide exclusive offers and invite to special events which helps to build a long-term relationship leading to repeat purchases. At the same time, brands can use customer analytics to constantly optimize their products and marketing campaigns.
Infineon's NFC authentication tags are based on the CIPURSE™ open-standard security architecture to bring customers greater security, transparency, and flexibility, it explains. This supports contactless interface ISO/IEC 14443 Type A and NFC Forum Type 4 Tag certified with built-in command set and a fully configurable file system.
With 304 bytes, 1 KB, 2 KB, and 4 KB of user memory, the secured NFC Type 4 tags allow users to store data in standardized NFC data exchange format (NDEF) and to build custom applications for contactless NFC anti-counterfeiting, identification, authentication, and customer engagement use cases.
Typical examples include functions redirecting users to a product website where they can re-order consumables or accessories. They also offer effective security against counterfeit products, preventing both mechanical and electrical intervention from non-compatible, sub-standard accessories and parts as well as ensuring safety and functionality are prioritized, says the company.
The Starter Kit is now available and can be ordered via the company website.
This article was created in collaboration with AIPIA (the Active and Intelligent Packaging Industry Association). Packaging Europe and AIPIA are joining forces to bring news and commentary about the active and intelligent packaging landscape to a larger audience. To learn more about this partnership, click here.