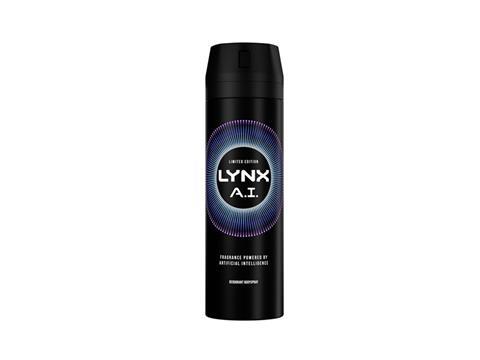 "Created by robots for humans" is a special edition body spray for young men which has been developed using augmented reality and artificial intelligence in a bid to produce the perfect scent and packaging.
Axe A.I. (LYNX A.I. in the UK), is the result of a specially designed AI applied to analyze 6,000 perfume ingredients with 3.5million potential combinations with the goal of discovering the ideal fragrance. The result combines an aromatic floral blend of sage, artemisia, and mint, refreshed with marine, apple and citrus notes and finished with a woody, ambery, and moss background.
Not only did the brand use AI algorithms to help create the scent but they are doubling down on technology and are using Augmented Reality (AR) to help market it.
Powered by Zappar's WebAR technology, all limited edition Lynx/Axe A.I. packs will feature a smartphone scannable QR code that will launch a web page where British rapper Aitch will introduce the product and ask the user to spray an AR can of LYNX/Axe in the air to reveal a code allowing entry in a special competition. Six lucky winners will be invited to a special house memorable party hosted by a hologram of Aitch himself.
Senior brand manager for Lynx at Unilever, Josh Plimmer, said: "Lynx has always been at the -cutting-edge of fragrance. The launch of Lynx A.I. which was created by crunching 46 terabytes of data, unlocks the code to smell iconic." This groundbreaking new scent was created in collaboration with Swiss firm Firmenich, which is an expert in fragrance and taste.
Caspar Thykier, CEO and co-founder at Zappar added: "The Lynx AI concept and campaign clearly demonstrate how innovative brands are leveraging technology to create and market new products, getting ahead in the new connected pack revolution as an always-on platform and part of their owned-media strategy. AR and AI are driving more engaging product experiences and better connecting young customers with brands."
"It is daring, courageous and innovative to combine humans and technology in such an emotional field - the sense of smell." commented Firmenich's chief information officer, Eric Saracchi, "We are very excited to launch this game-changing fragrance with Lynx to power up guy's daily routines. Over 50 years of fragrance data and knowledge - along with over 46 terabytes of data has led to the creation of Lynx A.I."
The special edition Lynx/Axe A.I. campaign will run through to March 2023.
This article was created in collaboration with AIPIA (the Active and Intelligent Packaging Industry Association). Packaging Europe and AIPIA are joining forces to bring news and commentary about the active and intelligent packaging landscape to a larger audience. To learn more about this partnership, click here.