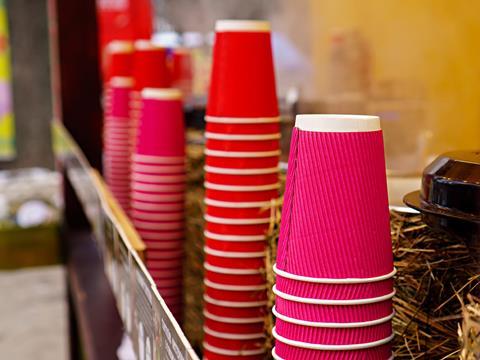 HSMG has revealed PROTĒAN CupKOTE – a recyclable, biodegradable barrier system to replace traditional plastic linings on disposable drink cups.
It is estimated that half a million disposable drink cups are littered around the globe each day. While a large portion of these cups are made from paper, almost all include a plastic inner lining. HSMG says that, even when properly disposed of, the plastic lining presents difficulties for recycling.
The company's new solution includes a topcoat and a base coat that are novel blends of plant-derived additives and selected latex. Each coating is applied by rod, blade, or another coater by the cupstock manufacturer and/or cup converter.
According to HSMG, the PROTĒAN blend enhances the barrier properties of latex while eliminating blocking and sticking, issues that have largely inhibited the use of latex as water and grease barriers to date.
Despite the recyclability-enabling features of the new system, it is not fossil-free, due to the inclusion of the latex binder which makes up roughly 40% of its total weight. Meanwhile, although it isn't plastic in the traditional sense, the EU SUP Directive's definitions for latex and similar materials are pending.
"We are pleased to announce that our CupKOTE barriers will be launched by major brands in the US this year, and we are now ready to identify partners for other markets," says Lucy Lee, HSMG's CEO.
"With this announcement, we invite manufacturers and brand owners to contact us to be considered for licensing, and also invite anyone with interest in this industry to provide feedback about the product."