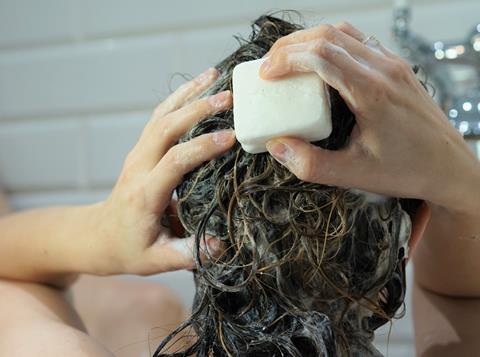 How much can we expect to see uptake of waterless products, such as shampoo bars and liquid concentrates, increase in the coming years – and what do brands need to consider when making the switch? Victoria Hattersley spoke to Artur Litarowicz of P&G Beauty for the brand perspective, and Nick Dormon of Echo for the design perspective.
Carbon footprints are – quite rightly – talked about a lot. Water footprints less so. But we live in an increasingly water-scarce world; according to WHO over 2 billion people in the world live in water-stressed countries and climate change can only exacerbate this. In this context, the growth of anhydrous – or waterless – cosmetic and household products such as solid shampoos and soaps, and concentrated detergents with refillable packaging is an important topic. Up to recently these had been seen largely as 'niche' products pioneered by the likes of solid product pioneers Lush, but we're glad to report that this is no longer the case. According to Future Market Insights, waterless cosmetic sales are expected to grow at a 13.3% CAGR between 2021 and 2031.
And let's not forget that reducing water and carbon footprints are not mutually exclusive goals. A concentrated product containing little or no water is far lighter and will use use less CO2 to transport compared to a liquid-based product, which can contain anything up to 80% water. That's a given. But as we shall see they can also reduce plastic waste. All compelling reasons for companies to continue down this path.
"Solids and other water-free formulae have a clear role to play in reducing our environmental footprint," says Artur Litarowicz, Senior Vice President of P&G Beauty's European Hair Care business."Shipping water as an ingredient in finished products around the region comes with a greenhouse gas emission cost. Solids help us to reduce direct GHG emissions from transportation – solid being 80% more efficient in transportation vs. liquid."
Improving the consumer experience
But as with anything that requires a shift in consumer habits, it can take time to build up market momentum. In fact, we could say that the biggest challenge with creating wider market uptake for these products is not so much the packaging considerations or cost, but purely one of buyer perception. Consumers may be increasingly eco-conscious, but they still value convenience; bottled liquids are less messy to store and are often seen as easier to use as they don't require the user to reconstitute them at home, as is the case with concentrates. This is not to mention the perceived 'sensorial' value from liquid products.
What can be done to change this? Firstly, bringing people round to the idea of solids and concentrates involves not just the products themselves but improving the systems around them – packaging, dispensing solutions, etc. This requires some joined-up thinking from different segments of the market. Central to this, says Nick Dormon, founding partner and strategy director for Echo, a global brand design agency, will be developing and adapting existing household technologies.
"We need to embrace technology in the home to enhance the experience by utilizing delivery 'systems'. Solid detergent cartridges could be installed in washing machines that last for months. The shower can have automatic shampoo dispensing possibly with selectable fragrances and formulations. Both examples would take the manual labour out of the equation and re-set consumer perceptions. This could have been happening for decades, but hasn't because they [consumer goods and household technologies] are very different industries, and the value never outweighed the effort. Imagine a scenario where Amazon see the potential to lease you a washing machine that they obtain through an OEM manufacturer and provide you your concentrated consumables through a subscription service."
However, it's not all about ambitious household technology: improving consumer experience of waterless products can be as simple as a better-designed dispenser. Silgan Dispensing, for example, has announced the launch of its new dosing solution, MeaSURE, a closure with a built-in chamber that delivers controlled dosing for applications such as laundry, cleaning, automotive, and personal care.
Silgan says that the closure is ideal for concentrated formulas, which use less packaging and can save on both raw materials and shipping. The solution is reportedly suitable for laundry, lawn and garden, automotive, cleaning, and personal care applications.
Then there are solutions such as the just-add-water formula from British start-up Plus Body Wash, which comes in 100% dissolvable packaging that goes down the plughole while you shower. Such niche innovations are certainly very interesting – although it does remain to be seen whether they are scalable long-term.
The brand perspective
Of course, waterless solutions require not only careful packaging design but also a different approach on the part of CPG companies. We reported earlier this year on how Procter & Gamble brands Head & Shoulders, Pantene, Herbal Essences, and Aussie are now offering shampoo and conditioner bars in a volume equivalent to two 250ml liquid bottles, packaged in recyclable FSC-certified paper boxes. We spoke to P&G's Artur Litarowicz to find out how they went about incorporating shampoo bars into their production profile in order to increase consumer acceptance of these products.
"First of all, I believe it is important that we recognize it is difficult for consumers to implement new habits," he says. "Because of this, it's vital to create performing and valuable products that people will want to buy again and again."
We all know that consumers also value choice and variety. P&G feels the most successful approach for a multinational is to offer several solutions across a range of popular brands. "We believe the right way to go to drive adoption is to do it across multiple brands and multiple benefits," he explains. "For example, Head & Shoulders has pioneered our first active anti-dandruff formula solid shampoo bar, bringing this formula to millions who suffer from dandruff. And Aussie is becoming our first household brand to have launched a solid conditioner bar. We hope that with this scaled effort using high-performing quality products, we will drive higher adoption."
It's important to point out here that P&G is not the only CPG brand that is taking hold of this trend. Other multinationals, as well as smaller, independent pioneers are also jumping on board. French personal care giant L'Oreal, for example, has introduced shampoo bars under its Garnier brand. Meanwhile Unilever's Dove brand launched a 4x concentrated body wash using patented technology that thickens when mixed with water.
Cutting plastic waste
Aside from reducing water and carbon footprints, solids and concentrates also create possibilities for the development of refillable packaging solutions, which in turn can help to address the separate problem of plastic waste. Examples include refillable deodorant packaging for Unilever's Dove, Axe and Rexona brands, which comes in a stainless steel case designed to 'last a lifetime'. According to the company, the refill will help to reduce virgin plastic waste by around 30 tonnes in its first year, as the case is made from stainless steel and the refill packaging from 98% recycled plastic.
Arguably, waterless solutions can also increase the prospects for a transition from plastic to paper packaging in personal care and household applications. In the past cosmetics packaging, particularly high-end, has tended to focus on a 'premium' look with metallic effects and other elements that could make the package more problematic to recycle. But products such as shampoo bars are much more suited to paper. For example, Alberto Balsam, the UK's No.1 shampoo and conditioner brand by volume, launched a shampoo bar that's 100% plastic-free and comes in packaging made from 100% recyclable, FSC-certified cardboard.
P&G is another example of a prominent consumer goods company that is increasingly using paper for shampoo brands – and what's more, it claims, encouragingly, that this has been partly driven by consumers themselves.
"Global research conducted by P&G Beauty reveals that 75% of consumers would like to buy more beauty products with packaging made from recycled material," says Artur Litarowicz, "and a significant proportion of consumers (65%) already try to buy plastic free packaging. The launch of solid bars at scale will further contribute to the reduction of virgin petroleum based plastic usage thanks to their boxes that are paper based with FSC certified paper."
The future for waterless
We've now seen what is already possible when it comes to waterless consumer packaged goods, but are there any other future applications we should be anticipating?
According to Nick Dormon, "Alcohol concentrates and gels are a very interesting area if the safety aspects can be overcome – again device mixing and delivery (aka Soda Steam) is a probable solution. A recent distillery client said to us, 'will we really be shipping liquids around the world in heavy glass bottles in 20 years' time?'"
He also highlights some interesting developments in mineral water and soft drinks. In recent years Danone, for example, has invested in a German company, Mitte, which has developed a countertop purifier to enable households to turn tap water into mineral water. The minerals are added using special cartridges that, it says, can last for 250 litres before needing replacing. Such solutions, if they become more widespread, could clearly dramatically cut use of plastic bottles.
Stories such as these, incidentally, are always good news in themselves. When multinationals – traditionally less agile and slower to embrace newer business models – invest in young, forward-thinking brands that are not at the mercy of long-established supply chains it benefits the entire industry and can lead to a more widespread adoption of previously 'unscalable' ideas.
But before we get carried away with the possibilities, we must also be pragmatic: Artur Litarowicz believes that it would be unrealistic for the industry to put all its resources into promoting waterless products. The drive for circularity must continue in more 'traditional' product lines as well. After all, there will never be 100% market uptake of waterless products unless brands stop producing liquid products entirely – something they are highly unlikely to do.
"We believe shampoo bars' performance and value will allow for consumers conscious of sustainability to implement new routine into their bathroom beauty habits and we hope to see this adopted at scale. However, we want all consumers to be able to improve their sustainability footprint irrespective of which form of our brands they prefer. This is why we are reducing our packaging impact also on our regular forms: most of our shampoo & conditioner bottles are recyclable and 51% of our shampoo bottles are made from 100% recycled plastic in Europe, and more than 95% of our line up contains recycled plastic."
All of this, finally, leads us to the most important question: Is there a realistic prospect of waterless household and personal care products matching or even overtaking liquid forms in the next few years? Nick Dormon sounds a cautiously optimistic note.
"Absolutely. One of the simplest and most dramatic, technical ways to reduce carbon footprint is to take pointless water out of shipping weight and volume in the supply chain. The critical hurdle will be down to consumer perception of value and convenience, but this change will accelerate exponentially as more and more brands come online and the supermarket shelf transforms and it becomes the norm.