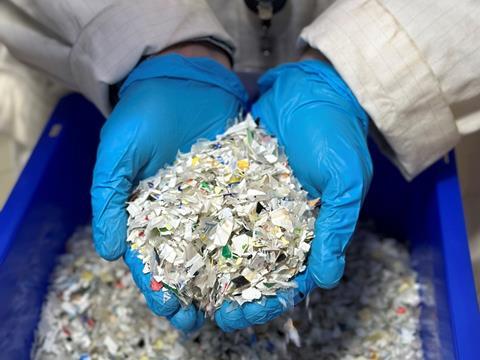 Project OMNI – a research project directed by Recycleye, Valorplast, and TotalEnergies that utilizes AI and machine learning to identify and separate food-grade polypropylene from household post-consumer waste – has led to 'ground-breaking results', the companies report.
Project OMNI is one of seven successful projects selected in Citeo's call for projects in October 2020. It is said to have proven the viability of sorting food-grade polypropylene waste with AI, computer vision, and an 'efficient' decontamination process.
Using waste collected from five French locations by Valorplast, Recycleye built and trained an AI model; the AI and robotic sorting has apparently achieved a successful pick rate of 50% of the food-grade material and >95% purity. This material was further decontaminated on a semi-industrial pilot based on off-the-shelf mechanical recycling technologies, at which point TotalEnergies used it to produce recycled polypropylene for high-end packaging applications.
It is hoped that Project OMNI, the result of eighteen months of research, will facilitate 'system-wide packaging changes' and take steps towards circularity for polypropylene packaging.
"This project not only demonstrates how cutting-edge technology can improve material circularity, but also paves the way for a wider range of accessible applications for recycled polymers to serve our customers," explained Nathalie Brunelle, senior vice president of Polymers at TotalEnergies. "It provides a concrete response to the challenge of managing end-of-life plastics, and fully supports our ambition of reaching 1 million tons of circular polymers."
Victor Dewulf, CEO of Recycleye, continued: "We are extremely excited to see this successful application of our robust AI-powered sorting technology at a semi-industrial scale. This application opens the possibility of creating new markets for recycled plastics materials; ultimately changing the economics of recycling."
"Being able to recycle food-grade PP is a key factor in the establishment of a circular economy for PP packaging," added Alban Cotard, Sales Quality and Development manager at Valorplast. "AI is a promising route for achieving this objective."
Further developments in AI sorting include Recycleye's work with FANUC UK to develop an automated detection and sorting process for dry mixed recyclables using AI vision technology and LR Mate robots. The solution is said to reach a sorting accuracy of 12% and a 10% improvement in line output.
Greyparrot's AI-powered waste recognition system has also received a $500,000 investment and access to Amcor's sustainability and packaging capabilities as a winner of the latter's Lift-Off programme. This is hoped to scale up the technology in pursuit of a circular economy.
If you liked this article, you might also enjoy:
The L'Oréal approach to packaging sustainability
The way we talk about plastic needs to change – here's how to get it right
What steps is Apple taking to make its packaging more sustainable?