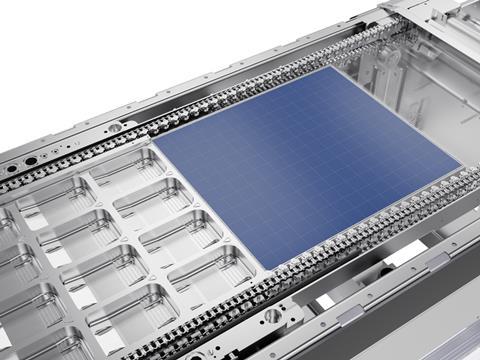 GEA has launched the PowerHeat heating systems, designed to accommodate the specific demands of recyclable mono-materials during the thermoforming process, for its PowerPak thermoforming packaging machines.
According to GEA, mono-materials that can be 100% recycled place special demands on the heating systems required for the thermoforming process.
Therefore, the company says its new GEA PowerHeat Z zone heating system evenly regulates the temperature in different zones of the heating plates independently of each other, ensuring that each individual packaging is evenly formed up to the edges. This is especially suitable for mono-material packaging such as PP or PE, GEA adds.
Meanwhile, the company explains that its PowerHeat M matrix heating system can be used to set customised package-specific temperature profiles. The company claims that this solution is particularly effective for multilayer films, as the thickness of the packaging materials can be reduced without negatively impacting packaging functionalities such as barrier properties.
GEA adds that energy costs are reduced because long heating times are eliminated and operating temperatures are rapidly reached. Fast control processes and precise adjustment of temperature fields reportedly avoid the temperature overshoots of traditional heating systems, which can be detrimental to packaging materials.
The company concludes that the new heating systems can significantly increase packaging output and capacity.
The new matrix heating system in the GEA Thermoformer was developed in close cooperation with GEA's technology partner, Watttron, and tested for market launch with the Wolf Group, a food manufacturer and pilot customer of GEA.
The new PowerHeat heating systems will be on display with GEA's PowerPak thermoforming packaging machines in Hall 8, Stand G20, at IFFA in Frankfurt, Germany.