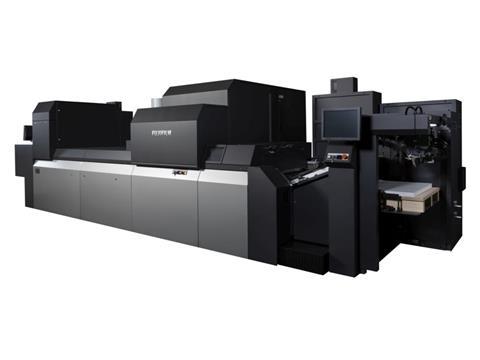 Fujifilm has announced the addition of a new High Value print mode, alongside increased feed and delivery stack height, to its Jet Press 750S inkjet press – apparently resulting in cheaper production and a faster running time.
Serving as a third option to the existing High Quality and High Performance modes, the High Value mode fits between them and is said to print at the same 1200 x 1200 dpi native resolution as the High Quality mode. However, it does not rely on the rapid coagulation primer (RCP); apparently, this feature reduces running costs and offers increased flexibility to its users.
Its independence from the RCP makes it an 'intermediate level' between the High Performance and High Value modes, according to Fujifilm.
Meanwhile, the additional 300mm height now implemented into the press is expected to facilitate 1,000 extra sheets of 300μm folding carton board – an increase of 37% – during the production process. As such, it is expected to increase non-stop running time to over an hour for folding carton stock, and over two for thinner materials.
The increased capacity options and the High Value mode will be available to customers from early 2023.
"Print businesses need flexibility," says Taro Aoki, head of Digital Press Solutions at Fujifilm Europe. "They need to be able to adapt, from one day to the next, to rapidly changing and often unpredictable market demands.
"With the addition of the High Performance mode to the Jet Press last year, we were effectively able to offer the benefits of two presses in one, allowing users to pivot between very high quality, short run work, to more mass market longer run jobs. Now, with a third High Value mode, and the ability to handle higher volumes of non-stop printing, we're bringing yet more flexibility to our customers, all within one machine."
The news comes after Fujifilm announced its High Speed Model last year, which is said to retain all the Jet Press 750S' features while offering "the industry's fastest" output speeds of 5,400 B2 sheets every hour.
More recently, HP Inc. released its HP PageWide Web Press T485 HD series, with its 42-inch width press reportedly printing directly to coated and uncoated offset media at speeds of up to 400,000 pages per hour and 800 fpm/244mpm mono and colour in Performance mode.
VerifyMe has also announced the successful development of VerifyInk, a covert ink technology to run on continuous inkjet printers.