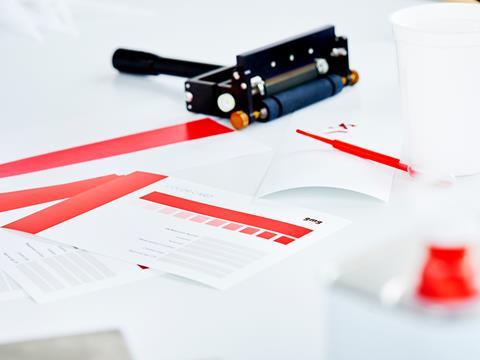 GMG and Sun Chemical have partnered to create a next-generation system that enables customers to digitize their colour workflows, with the aim of delivering value in print and quality control.
Following close collaboration between the two companies, the GMG ColorCard solution has been integrated into Sun Chemical's SunDigiProof service.
The SunDigiProof service, available as part of the SunColorBox toolkit, provides precise digital drawdowns on-site and on demand. With the addition of GMG ColorCard, SunDigiProof users can digitize and automate the production of precise digital colour matches based on digitally defined colours. The companies say that this creates a more intuitive workflow, empowering printers to create and share colour matches faster while minimizing the cost and effort of qualifying colours both internally and with their brand partners.
Marc Levine, Director of Business Development at GMG, comments: "Our partnership with Sun Chemical helps print businesses digitize their colour processes and better future-proof their businesses. In today's more volatile market, every single resource matters more than ever; pressure on speed, agility, and quality is at an all-time high.
"We believe that digital colour specification and communication tools remove the friction around colour so that brands and their supply chain partners can produce colour with more efficiency, greater accuracy and higher consistency."
"With GMG ColorCard, ink drawdowns are simplified requiring no special tools or expertise. We build our expertise into the software, using spectral prediction technology found in GMG OpenColor," Levine continues.
"We also leverage the capability of today's high-performance inkjet printing solutions, enabling users to create accurate, repeatable digital colour matches in under three minutes. That means no more time-consuming and resource-intensive manual processing, consistent substrate-to-substrate consistency, and faster, more accurate colour referencing across the board."
GMG ColorCard integration seeks to further boost the flexibility and convenience of SunDigiProof, as it can be configured to meet a wide range of technical requirements. This reportedly ensures that there is always an ideal match for printers. By digitizing manual processes and unlocking in-house colour matching, the companies say that their new technology enables simple cost control alongside added flexibility.
Patrice Aurenty, Business Leader Color Management, Global at Sun Chemical, adds: "The goal of our partnership is to offer a best-in-class solution for automating color swatch production and enhancing speed to market. We are delighted to accomplish this and more, with the added advantages of clearer color communication and exemplary consistency, regardless of substrate or project complexity.
"Our SunDigiProof service, part of the SunColorBox toolkit, makes color consistency effortless. By plugging GMG ColorCard functionality into the mix, we're offering new heights of productivity and efficiency for digital color match creation. As the market continues to demand uncompromising speed and volume, the right choice of tools can make all the difference."