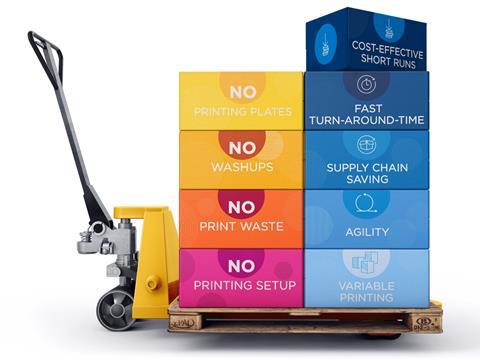 HP has introduced its HP PageWide C550 post-print digital corrugated press, designed to optimise operational efficiency and lower the manufacturing costs of corrugated Flexo and Litho boxes.
Expanding on the capabilities of the previous C500 press model, the C550 is thought to enhance productivity and value in the industrial packaging industry. It apparently enables improved economics, increased plant capacity, greater versatility in the production process, and the implementation of 'more sustainable' packaging solutions, as well as growth opportunities within the increasing supply chain pressure faced by converters.
The C550 runs at a speed of 90 linear metres or 295 linear feet per minute, which allows it to produce high-quality Flexo and Litho packaging without slowing down, according to HP. It is expected that converters can utilise its rapid digital print to optimise inventories, reduce obsolescence, and accelerate turnaround times.
Reportedly, the new model has already been ordered by Saica Group for use in its operations in Viana, Spain.
"HP is continuing its investment in the packaging market to create new opportunities for packaging converters and brands to benefit from the analog to digital transformation," says David Tomer, general manager of HP Post-Print Corrugated Solutions. "We are very excited to deliver the C550 press to the corrugated industry.
"It is built on the field-proven success of the C500 press and allows converters to economically produce Flexo and Litho boxes at high speeds without slowing down the press. We are constantly working on innovative solutions that not only improve post-print stability and productivity for converters, but also meet the quality and flexibility demands of brands for packaging."
HP states that its aim is to usher in a digital transformation and respond to increasing demand for shorter and customised runs with innovative technologies.
Back in 2021, Konica Minolta announced the launch of a new digital inkjet press for on-demand corrugated packaging production; this was followed by HP's enhanced sheet-feeding system, set to heighten productivity and lower costs to facilitate growth in the digital corrugated packaging market.
The HP PageWide Advantage 2200 series sought a more general improvement in production for a range of applications for commercial print service providers in 2022, while Fujifilm's addition of a High Value print mode and increased feed and delivery stack height to its Jet Press 750S inkjet press also pursued speed and reduced costs.