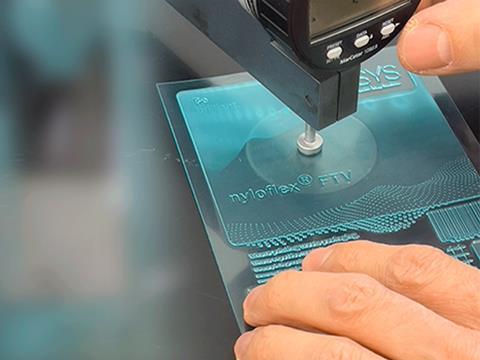 XSYS has announced its nyoflex FTV Digital hard durometer photopolymer plate for the flexographic printing of flexible packaging with solvent inks; it intends to deliver 'superior' overall equipment efficiency (OEE) in plate production and provide high-quality print.
The solution is said to offer standard bank exposure and hold the finest highlight dots, resulting in a wide tonal range as well as achieving solid ink densities in combination with surface screenings. Its anti-ink filling technology apparently enables it to achieve higher OEE and longer and cleaner print runs with solvent-based inks.
Furthermore, the new solution is apparently less prone to plate swelling. This reduces the number of wasted plates and enables longer on-press durability. Its 1:1 image transfer is also thought to make it suitable for optional surface screenings, as well as enhancing consistency and repeatability.
The nyloflex FTV Digital is designed to achieve high quality under both UV-A tube lights and LED UV-A light technology, with the print being processed in a solvent washout system. According to XSYS, the new plate is especially suited for exposure on the ThermoFlexX Catena-E unit and with the ThermoFlexX Woodpecker surface screening patterns, including Woodpecker Sharp and Nano, as well as being ideal for extended gamut printing.
"Our customers are under constant pressure to deliver consistent print results quicker and more efficiently," said Simon Top, product manager at XSYS. "With the nyloflex FTV Digital, XSYS has introduced the latest plate innovation for the printing of high-end flexible packaging. Moreover, the new plate does not require any changes to existing solvent digital washout processing equipment or any additional costs from auxiliaries or consumables.
"The nyloflex FTV Digital offers customers the best of both worlds because it is equally efficient in both conventional bank exposure and newer LED systems. Since it also reduces complexity in the plate room, it perfectly complements our portfolio for the high-end flexible packaging market.
"Next to the well-established nyloflex NEF Digital, which was the first LED-optimized plate for the high-end flexible packaging segment, we can now offer a second LED-optimized plate that also brings excellent print results with bank exposure. The new plate will give those customers who plan to move to LED exposure, such as our Catena-E technology, an easy and straightforward path to the future with market-leading quality.
"As always, XSYS' goal is to enable our customers to be brilliant and help them reduce complexities in the plate room, while increasing their productivity and quality with best-in-class innovations. We have already received excellent customer feedback proving that with the nyloflex FTV Digital, we are definitely achieving just that."
In other news, Fujifilm has released its Acuity Prime L flatbed printer with a system-specific ink system, intended to increase productivity and ROI for print service providers.
Itsue Yanagida, business development manager of Graphic Systems at Toray International Europe GmbH, recently spoke to Packaging Europe about electron beam offset technology, which is believed to offer high production flexibility and low processing costs.