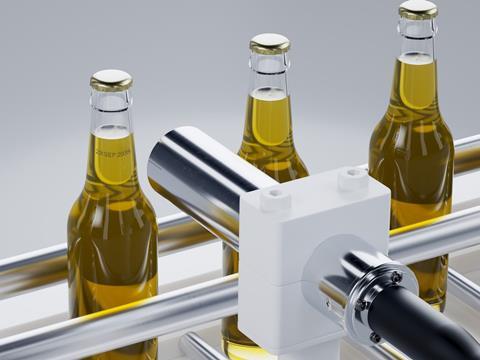 Leibinger has unveiled the IQJET – which claims to be the world's first intelligent coding and marking system and is set to apply direct coding and marking to products and packaging in the FMCG and industrial sectors – at this year's interpack.
Reportedly, the system offers "Plug & Print" performance with consistently high print quality and availability. When it is not in use, the ink continues to circulate while the entire ink circuit, including the print nozzle, is sealed airtight. As such, printhead cleaning routines and regular maintenance are both thought to be unnecessary, which increases productivity.
Meanwhile, the SMART.EFFICIENCY assistance system aims to keep operating costs at a minimum – as much as 30% lower than conventional Continuous Ink Jet (CIJ) systems, according to Leibinger. For example, the company calculates that a producer in the FMCG sector with 4,000 production hours every year and 400 prints per minute with 20 characters/print each could save close to €9,000 in operating costs over five years compared to conventional CIJ printers. An operating cost calculator is available on Leibinger's website.
The IQJET is said to consume ~ 2.7 cc/h for MEK, which is claimed to be the lowest consumption on the market. It also utilises ink cartridges until they are completely empty and, unlike conventional systems, these do not need to be disposed of separately. So, too, is the system said to be reliable enough to prevent unnecessary waste and production scrap.
Nor does the IQJET require scheduled maintenance for a full five years, according to Leibinger, due to the system's unique design. As it does not require a continuously running feed pump, it apparently reduces wear and tear. Its components are manufactured in Germany and subject to stringent quality controls, which is expected to result in high quality and reliability.
Additionally, the SMART.OS operating system with a 10" touch display, OPC UA, an integrated PLC, and various other interfaces are set to enable simple integration into a production line, as well as ensuring intuitive operation that does not require specialist knowledge.
"With the IQJET, we can now give our customers even more confidence – and serenity – that everything is working as it should 24/7 when they're marking products," explains Christina Leibinger, CEO of Leibinger. "From the moment production begins: With the IQJET, it always runs smoothly and without any delays.
"You just plug it in and start printing – with absolute reliably. Plug & Print, as we say. The IQJET is so much more than just a CIJ printer. Our customers literally no longer have to worry about anything when coding and marking their products. And that's a great feeling."
Visitors at interpack can view the IQJET at the Leibinger Innovation world in Hall 8B at stand D26.
Other products on display at the trade fair include Fujifilm's portfolio of analogue and digital packaging solutions, from narrow web inks to jet presses, and Robatech's consumption-reducing jetting heads and GreenSaver service.
If you liked this article, you might also enjoy:
McDonald's Director of Sustainability in Europe on the company's approach to packaging sustainability
McKinsey on whether or not on-pack sustainability claims affect consumer spending
Perspectives from industry-leading experts on the EU's Packaging and Packaging Waste Directive revisions
A deep dive into the most important packaging sustainability trends and solutions