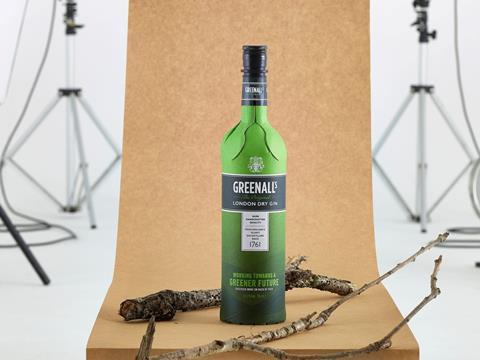 Greenall's Original London Dry Gin is now available in Frugalpac's paper bottle, which features a food-grade plastic pouch containing the gin that can be separated from the paperboard and both parts recycled respectively depending on local recycling facilities.
Greenall's says the new 70cl paper bottle format for its Original London Dry Gin is now available for UK customers across order channels and will be appearing on Sainsbury's shelves nationwide in October. The Original London Dry Gin will also remain available in glass bottles for now, the company adds.
The Greener Greenall's Paper Bottle will reportedly also launch in EMEA in the latter half of 2022.
The gin will be packaged inside Frugalpac's Frugal Bottle, which features an outer shell made from paperboard with 94% recycled content, according to the company. The paperboard bottle is reportedly fully recyclable via kerbside collection. Meanwhile, the gin is contained in a flexible plastic food-grade pouch inside the bottle that Frugal recommends consumers separate from the paperboard and take to major supermarkets or recycling centres for recycling.
In an interview with Packaging Europe, Malcom Waugh, CEO at Frugalpac, reported that the overall recycled content of the entire paper-based bottle solution is 84%. Waugh adds that the Frugal Bottle offers over 24 months of shelf life for spirits, while reportedly providing an 84% lower carbon footprint compared to an imported glass bottle based on an independent life cycle analysis conducted by Intertek in June 2020.
Greenall's claims that the paper bottle format for its Original London Dry Gin reduces the weight, carbon footprint and water usage of its packaging by more than 75%.
Russell Smith, global brand lead at Greenall's, comments: "With climate change a continued growing threat, we recognise that we need to do our best to reduce our environmental footprint. This new paper bottle from Frugalpac and partnership with Ecologi marks a significant step in Greenall's sustainability journey.
"We know there is much more we need to do, so we are creating a roadmap for the brand that will lead us to reduce our carbon emissions to net zero."
Ecologi will apparently plant one tree for every purchase of the Greener Greenall's Paper Bottle in the off-trade and for every 10 Greenall's Gin and Tonics purchased in the on-trade.
Linda Adams, head of partnerships at Ecologi, adds: "We are delighted to be partnering with Greenall's, planting trees around the world on the brand's behalf. Not only is the company demonstrating its long-term commitment to offsetting its emissions through this initiative, but it is also fully committed to reducing the amount it generates. By switching from a glass bottle to paper, Greenall's plans to reduce its carbon footprint by as much as 84%."
Earlier this year, Frugalpac announced that it had sold its first Frugal Bottle Assembly Machine, FBAM-1, to the Canadian packaging firm KinsBrae Packaging. The company is looking to expand the presence of bottling machines in bottling plants, co-packers, and packaging companies on a global scale to further reduce the footprint of its Frugal Bottle, which is currently produced in the UK.