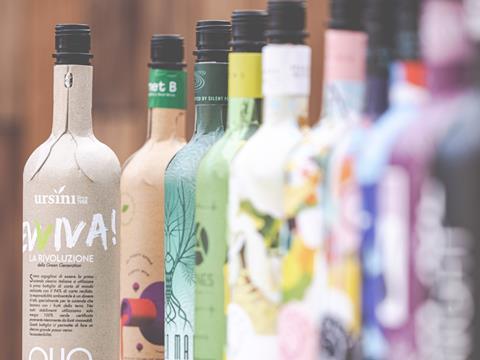 Frugalpac, the creators of the paper-based Frugal Bottle for wine, spirits, and olive oil, has sold the first Frugal Bottle Assembly Machine, FBAM-1, to Canadian packaging firm KinsBrae Packaging.
Based in Cambridge, Canada, KinsBrae Packaging has reportedly agreed on a deal to buy and install the Frugal Bottle Assembly Machine, called FBAM-1.
According to Frugalpac, the FBAM-1 is capable of producing more than two and a half million Frugal Bottles annually. The company says that the machine can be operated 24/7 for 49 weeks per year, excluding maintenance requirements.
The Frugal Bottle is made from 94% recycled paperboard, while the total recycled content of the whole bottle (including the food-grade plastic pouch, neck, and cap) is 84%. Frugalpac recommends removing the plastic pouch so that the plastic and paper parts can be placed in separate recycling bins, although the inner liner is flexible plastic, which is not yet widely recycled in the UK.
Frugalpac claims that over 25 different producers globally have launched wines, spirits, and olive oils in the Frugal Bottle so far. In Canada, the Italian winery Cantina Goccia is already selling wine in the Frugal Bottle through LCBO stores in Ontario, according to Frugalpac.
Frugalpac says its vision is to place bottling machines in bottling plants, co-packers or packaging companies around the world to further reduce the carbon footprint of its Frugal Bottle. An independent Life Cycle Analysis carried out by Intertek reportedly found that the Frugal Bottle has a lower carbon footprint (91.9g CO2e) compared to a lightweight glass bottle (382g CO2e), an imported glass bottle (558.2g CO2e), and a 100% recycled plastic bottle (138.6g CO2e).
Malcolm Waugh, CEO of Frugalpac, announced the deal with KinsBrae Packaging at the London Wine Fair last week. Waugh comments: "2022 is proving to be the year of the paper bottle and we're thrilled to be selling our first Frugal Bottle Assembly Machine platform to KinsBrae Packaging.
"Whilst we currently produce Frugal Bottles in Ipswich, this partnership will allow us to have a mainland presence in North America, reducing the carbon footprint of our bottles even further. We're proud to have this relationship with KinsBrae Packaging who have a strong track record of producing and supplying sustainable packaging.
"Now we're asking other packaging companies, bottlers and co-packers to join our paper bottle revolution by investing in their own Frugal Bottle machines. It is clear consumers are keen on more sustainable forms of packaging and this is a great opportunity for packaging companies, bottlers and the print industry.
"Frugalpac already has enquiries to order more than 120 million Frugal Bottles from drinks and olive oil brands around the world and KinsBrae will play a massive part in meeting this global demand. We currently have a further 87 companies keen to acquire a Frugal Bottle Assembly Machine.
"We're looking to save the planet one bottle at a time, and we welcome KinsBrae to the paper bottle revolution."
Shawn Bonnick, president and CEO of KinsBrae Packaging, adds: "KinsBrae Packaging is proud to be the first packaging company in the world to acquire a Frugal Bottle Assembly Machine to supply Frugal Bottles to the growing wine and spirits businesses in Canada.
"Our company knows that sustainable packaging isn't a flash in the pan. It's what our customers now expect.
"We already produce and supply sustainable packaging with our Eco Six Pack Rings for cans and cans for wine, and we are really excited to be able to offer the world's first commercially available paper bottle to our existing and new clients.
"We were particularly impressed by the rapid sales of the Frugal Bottles and the impressive global need for the Frugal Bottle. It's clear that there's a significant consumer desire for innovative packaging that's not only sustainable but also stands out with 360-degree branding.
"Being placed in Canada, KinsBrae is also perfectly positioned to export Frugal Bottles to the USA. We're looking forward to meeting this demand and playing our part in helping to decarbonise the food and drink packaging industry of North America."