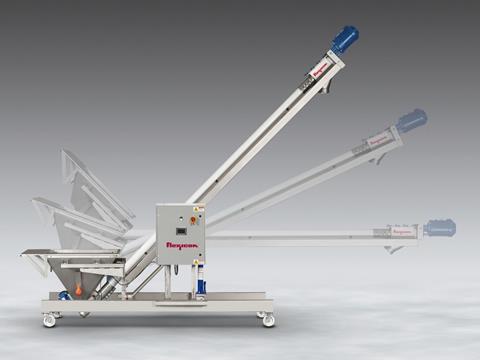 Flexicon has revealed its mobile tilt-down flexible screw conveyor, designed to be fully accessible at standing height and offer a low centre of gravity for both convenience and stability.
The plug-and-play system is made from #316 stainless steel and is equipped with a low profile hopper with a bag support tray, a quick-release clean-out cap, a quick-disconnect discharge access cover, and a stainless steel control panel, conduit, and liquid-tight compression fittings for wash-down and/or the conveying of corrosive materials. It also features HMI controls for manual or automatic starting, stopping, and speed adjustment, as well as a manual hydraulic jack to raise and lower the support boom and conveyor assembly.
As the support boom is positioned against and parallel to the conveyor tube, the system is not as tall as others of its kind; this means that it can fit beneath doorways, mezzanines, and other overhead obstructions, as well as between process equipment inlets. Its low centre of gravity is thought to ensure that the system is stable, both in operation and when rolling between multiple tasks and wash-down stations.
The tilt-down mechanism positions the clean-out cap of the conveyor belt higher off the plant floor, and the conveyor's discharge closer to it, when fully lowered. This allows operators to remove and re-insert the flexible screw from standing height during cleaning and inspection.
This screw is the only moving part that comes in contact with material and is driven beyond the discharge point to prevent material from touching bearings or seals. As it rotates, it self-centres, which apparently creates a gentle rolling action to prevent disparate blends from being separated while keeping space between itself and the tube wall to minimise or prevent grinding.
A range of screws with specialised geometries is available for the handling of free- and non-free-flowing materials, such as products that pack, cake, or smear.
Canon also designed its imagePROGRAF TC-20M full-colour, large format desktop printer for limited workspaces, with its smaller dimensions and an optional basket to catch printed materials enabling its implementation on shelves and desks.
In other news, Shemesh Automation will reveal two of its A-Z turnkey packaging line solutions at this year's interpack – an uninterrupted bottling line and a robotics-based solution for the entire process of packaging household and chemical liquid products, from feeding and filling to case packing and palletising.
If you liked this article, you might also enjoy:
McDonald's Director of Sustainability in Europe on the company's approach to packaging sustainability
McKinsey on whether or not on-pack sustainability claims affect consumer spending
Perspectives from industry-leading experts on the EU's Packaging and Packaging Waste Directive revisions
A deep dive into the most important packaging sustainability trends and solutions