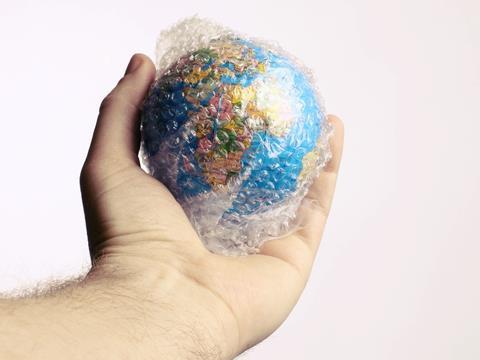 Plastics Europe and its members have agreed on a 'Plastics Transition' roadmap with their sights set on circularity, net zero emissions, and more sustainable material consumption in the European plastics industry.
Although the organizations are concerned about the impacts of the European plastics system on climate change and the environment, they note that the materials are 'irreplaceable' in many applications and have their own part to play in both the sustainable transition and the competitiveness of various European sectors.
As such, the roadmap emphasizes that a whole value chain approach must be taken to speed up systemic change and achieve true circularity. It foregrounds immediate, short, and medium-term milestones and actions for plastics manufacturers while recommending actions for policymakers and value chain stakeholders between the present day and 2030, including the preservation of the European plastics system's international competitiveness.
It envisions that fossil-based plastics will gradually be phased out, with circular plastics expected to meet 25% of European demand by 2030 and 65% by 2050. At the same time, it aspires for a 28% reduction in greenhouse gas emissions from the overall plastics system by 2030 and a complete transition into net zero by 2050. Additional investments and operational costs are predicted to reach a total of €235 billion.
Minimum circular plastic content targets for key plastics are necessary to incentivize their uptake, the roadmap states. In conjunction with industry investments in such areas as chemical recycling infrastructure, Plastics Europe also calls for a European waste management system that can feasibly achieve net zero emissions and usher in a circular economy.
In Plastics Europe's view, the roadmap will serve as a 'very important contribution to informing and promoting dialogue and collaboration with policymakers and our value chain.' It encourages the European Commission to engage in "Clean Transition Dialogue" with the plastics industry, and the value chain itself to come together in further collaboration efforts.
The roadmap is set to be updated over time based on developments in insight, policy framework, and value chain input. A more sustainable plastics system is hoped to meet consumer and societal demands while helping downstream industries transition into circularity and providing a strategic asset for the European economy.
"For the first time our industry is united around a hugely ambitious but realistic plan to redesign the European plastics system - the 'Plastics Transition' roadmap," says Virginia Janssens, managing director of Plastics Europe. "It will be our North Star for the years to come and reflects a profound cultural shift that has taken place in our industry.
"To be successful, critical action, real collaboration and explicit political will is needed. Decisions taken in the next few years will determine whether and how quickly we can fulfil the ambitions set-out in the roadmap.
"We urgently need an enabling policy and regulatory framework that stimulates circular markets and industry investments in Europe, rather than hinders the industry's transition. The window of opportunity to make these accountable decisions is rapidly closing."
Marco ten Bruggencate, president of Plastics Europe and EMEA commercial vice president Packaging and Specialty Plastics at Dow, said: "We are excited about the opportunity the Green Deal provides to create a thriving and competitive European plastics industry that allows us to increase investment and innovation in circularity and decarbonization.
"However, to enable the transition we will need measures to safeguard the competitiveness of our industry if we are to prevent industrial activity and investments migrating out of Europe to other regions, and to avoid becoming increasingly dependent on imports of plastics which do not necessarily meet EU sustainability standards."
"The wider European plastics system is too big, complex, and interconnected for any part of it to successfully deliver a circular and net zero system alone," Rob Ingram, Plastics Europe Steering Board Roadmap Task Force Lead and CEO at INEOS Olefins & Polymers Europe. "We need to find better ways of listening, talking and deepening our collaboration.
"The roadmap should be viewed as an invitation to challenge our thinking and identify the areas where we can join forces and progress faster together. To promote this collaboration Plastics Europe is calling on the European Commission to develop a Clean Transition Dialogue for the European plastics system."
A 'Zero Draft' for a Global Plastics Treaty was recently developed by the INC Chair at the United Nations Environment Programme (UNEP) in the lead-up to INC-3 in Nairobi. The Business Coalition for a Global Plastics Treaty expressed its approval, but made its own recommendations regarding potential priority areas, such as harmonized criteria to identify 'problematic' and avoidable plastics for elimination.
In response to another UNEP report calling for international policymakers to work towards an 80% reduction in global plastic pollution by 2040, Robert Lilienfeld, founder and executive director of sustainable packaging think tank SPRING, suggested that plastics were being unfairly singled out and criticized its focus on circular systems rather than a general reduction of waste.
If you liked this article, you might also enjoy:
The L'Oréal approach to packaging sustainability
What steps is Apple taking to make its packaging more sustainable?
How did Brazil achieve its 100% aluminium can recycling rate – and can it be replicated in the EU?
Experts have their say on the EU's Packaging and Packaging Waste Directive revisions
Also, if you're interested in packaging sustainability, you will want to attend our Sustainable Packaging Summit in Amsterdam on 14-15 November. The Summit brings together leaders and pioneers from across the industry to align strategically, learn, network, and create a critical mass to accelerate change. You can learn more by clicking here, and you can buy a ticket to attend here.