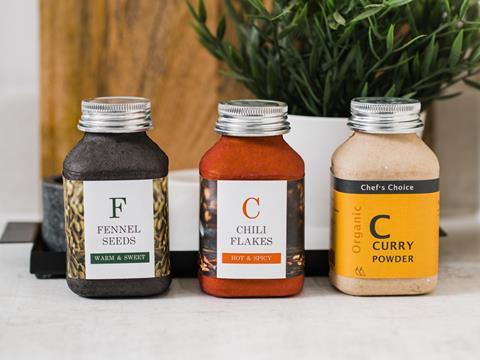 Cullen Packaging has launched a moulded fibre bottle for dry goods, which it claims is made from recycled cardboard and certified as recyclable in domestic recycling bins.
Cullen Packaging says that the bottle, called The Fibre Bottle, is designed for dry goods such as vitamins, supplements, spices, horticultural products, and home cleaning products like fabric softener beads. As such, this iteration of The Fibre Bottle does not appear to require a barrier to prevent the leakage of liquid products, although the company says that it can incorporate plastic-free wax into the solution to limit the risk of damage during transport depending on the requirements of the brand and product.
This enables The Fibre Bottle to be made from recycled cardboard and water, according to the company. The company claims there are no other components to the bottle body, making it a plastic-free solution.
Both the first and second generation of Paboco's paper-based bottles, also called the Fibre Bottle, feature a plastic lining that must be separated from the fibre material to enable both to be recycled separately, according to the consortium. Meanwhile, Pulpex's moulded fibre bottle includes proprietary, spray-on coatings that the consortium claims are PET- and HDPE-free. Unlike Cullen Packaging's solution, however, both Paboco and Pulpex's bottles can be used for liquid products, although the latter currently excludes carbonated and hot-fill liquids.
Cullen Packaging adds that its fibre bottle solution is recyclable in domestic recycling bins in the UK, while it can also reportedly be home composted in a garden waste bin. The Fibre Bottle is apparently covered by the European standard for packaging recoverable through composting and biodegradation, DIN EN 13432-2000-12.
According to Cullen Packaging, The Fibre Bottle can be paired with a cap made from materials that are not fibre-based. The company gives the example of an aluminium cap, which it adds can be removed after use and also placed in domestic recycling bins.
Citing a Life Cycle Assessment from Marketeers (2020) and a Packaging Sustainability Evaluation Report from Anthesis (2018), the company claims that moulded fibre has 150% lower CO2 emissions compared to PET. The company is therefore presenting The Fibre Bottle as a reduced emissions alternative to plastic bottles and pouches.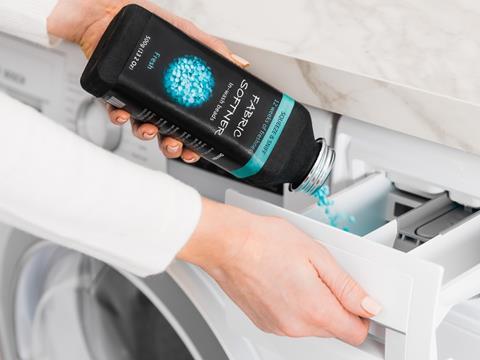 Cullen Packaging explains that The Fibre Bottle is manufactured in-house using its patented recycling technologies, which it claims operate as part of a closed loop. Bespoke moulded fibre bottles can be developed in any size and colour for fast-moving consumer (FMCG) brands by Cullen Packaging's in-house design, engineering, and manufacturing teams, the company claims.
In addition, Cullen Packaging says that the moulded fibre bottle technology is ready to be commercially scaled to up to 270 million bottles per year, reportedly at a cost comparable to plastic bottles. According to the company, it has already produced millions of moulded fibre bottles for the healthcare sector across 34 countries.
The company is also looking to expand its 14-acre manufacturing facility in Glasgow, Scotland, with the aim of increasing annual production to one billion products per year for its existing moulded fibre and corrugated solutions.
David MacDonald, owner of Cullen, comments: "While there are some great pilot and small-scale plastic-free bottle innovations, The Fibre Bottle by Cullen is the only one that can be produced affordably at a commercial scale.
"The fibre-based packaging market is £8.65bn ($10bn) per year. Our ability to design, engineer and manufacture over one billion plastic-free products since 2020 from our UK facility makes us one of the global leaders in this space.
"It's not just bright innovation and smart design that will allow us to remove single-use plastic from shelves, but expert manufacturing at real scale and a cost that rivals or beats the alternatives."